Central bank has gold coins waiting for Georgian Olympic champions
By Shorena Labadze
Friday, July 25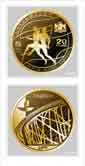 The National Bank of Georgia presented freshly-minted silver and gold Olympic commemorative coins yesterday, the first time the central bank has dedicated a project to the Olympics, according to acting bank president Davit Amaghlobeli.
"With this action we express our backing in general for Georgian sport, and appreciate the sportsmen's work," he said at a presentation yesterday.
Gogi Topadze, president of the Georgian Olympic National Committee, welcomed the symbolic coins as an expression of enthusiastic state backing for athletes.
"Our sportsmen don't lack incentives," he said, pointing out the president's promise of one million lari to gold medal winners. "And now the National Bank is volunteering its contribution to competitors. We appreciate it, of course."
An athlete who wins a gold medal in Beijing will get a gold coin from the bank, with other medal winners taking home a silver coin.
21-year-old weightlifter Rauli Tsirekidze, who will be going to Beijing to compete in the Games this summer, said it was encouraging to see support from the state.
We realise what a big responsibility we have and will do our utmost not to disappoint our people and our country," said Tsirekidze.
The 1000 gold coins and 1500 silver coins were made by the Royal Dutch Mint. The coins bear Beijing Olympics symbols on one side, and Georgian sports emblems with the Olympic motto of Citius, Altius, Fortius (Swifter, Higher, Faster) on the other.
The Dutch mint is also making 700 coins on its own to sell abroad, with a portion of the proceeds going back to the Georgian National Bank.
Anyone can buy the coins: GEL 400 for the gold, which has 8.5 grams of the metal, and GEL 48 for 28.8 gram silver coin. 30 coins sold the day of the presentation.
The heft of those precious metals pales in comparison to President Mikheil Saakashvili's promise of a one million lari reward for gold medal winners, made at the start of this week.
Kakha Beridze, spokesman for the Georgian Olympic Committee, said he is not expecting any more potential prizes for Olympics athletes to be announced before they leave for Beijing.
"The state has already made a great surprise [of the one million lari]," he said. "And businessmen generally do such things [present awards to athletes] after the results."
Georgia's finest Olympic moment was in the 1952 Helsinki Games, according to the national committee, when Georgian athletes competing for the Soviet Union brought home five golds.
In the 2004 Olympic Games, Georgia won two gold and two silver medals.
According to 1960 gold medal winner Robert Shavlakadze, Georgia has had 28 Olympic champions and more than 300 world champions.