SOCAR expands Georgia operations
By M. Alkhazashvili
Translated by Davit Kipiani
Friday, July 25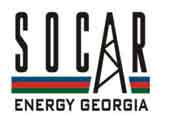 SOCAR Energy Georgia, the daughter company of Azerbaijani state oil company SOCAR, is planning to open four more gas stations in Georgia by August.
Mair Mamedov, head of SOCAR Energy Georgia, said the company will operate 17 to 20 gas stations across the country by the end of 2008, up from the current figure of nine. The company's expansion will continue into next year.
At an international energy conference in Tbilisi last year, Mamedov said that the company's expansion would include the construction of three petroleum storage depots in Georgia and that it will ultimately employ 500 people in 25 gas stations countrywide.
SOCAR currently has invested over USD 300 million in Georgia and owns a 51 percent of SOCAR Energy Georgia, with the rest belonging to Georgian investors. It owns an oil terminal at Kulevi, near the port town of Poti.