Turkish construction starts on Baku–Tbilisi–Kars
By Mikheil Svanidze
Friday, July 25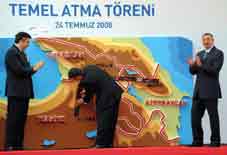 Workers laid foundations for the Turkish section of the Baku–Tbilisi–Kars railway yesterday at a ceremonial start to construction.
The presidents of Georgia, Turkey and Azerbaijan gathered in Kars to mark the beginning of work on the 76-kilometer portion in Anatolia.
The countries signed a deal on the railway in February 2007, with trains expected to begin riding the rails in 2010, according to a Georgian Economic Development Ministry spokesperson.
Georgian transport companies say they will "fully" make use of the railway.
"For me, as a railway freight provider, it will be convenient, and transportation from Turkey will be cheaper," Otar Bolkvadze of transport company Mezhtrans Service said.
Some 1.5 million people and 6.5 million tons of cargo are expected to be transported via the railway in the first year following its launch, according to Turkish newspaper Today's Zaman.
Georgian President Mikheil Saakashvili told reporters in Kars that the railway is "actually, for us [Georgia], a Baku–Tbilisi–London railway."
He said the project would be a "window cut to Europe," alluding to the work of Russian Tsar Peter the Great, credited with doing just that by building the European-style city of St Petersburg in the 18th century.
A rail connection through Turkey will be possible after the Marmaray tunnel under the Bosphorus strait is finished, now scheduled for 2012.
Former economy minister Lado Papava said the project is key for a transportation corridor for cargo going from Central Asia to Europe.
"[The railway] will make companies from Central Asia inclined to choose this particular route [to Europe], and not the route through Russia. This concerns a variety of goods, including light industry, cement, etc.," Papava said.
Some economists and freight operators say they fear the railway will decrease profits for Georgian ports, but analyst Gia Khukhashvili, one of those critics, also suggests the political significance of the project shouldn't be left out of the equation.
"Georgia and Azerbaijan are a united geopolitical knot, which is very important in connecting the East and the West," Khukhashvili said.