US diplomat pushes direct talks on Georgia visit
By Mikheil Svanidze
Monday, July 28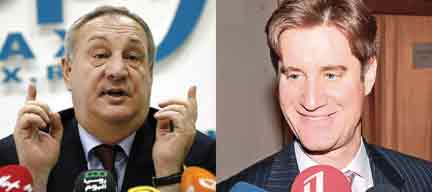 Washington's top envoy for the region visited Georgia and its breakaway region Abkhazia over the weekend to give some momentum to the push for peace talks.
US Deputy Assistant Secretary of State Matthew Bryza met top Abkhaz and Georgian officials, appealing for direct talks without preconditions as he voiced support for the German-proposed peace plan which has been front and center in the last two weeks.
The US official was accompanied in his visit to de facto Abkhaz capital Sokhumi by Germany's ambassador to Georgia.
Meeting with Bryza, the Abkhaz de facto president reiterated Sokhumi's preconditions for substantive talks: Tbilisi signing a non-use of force agreement, and the withdrawal of Georgian forces from the Kodori Gorge in Abkhazia.
"Without considering lawful interests of Abkhazia, achieving positive results is impossible, whichever country would support the German project on Georgian-Abkhaz conflict resolution," said Abkhaz leader Sergey Bagapsh, according to separatist news agency Apsnypress.
Bryza sought to persuade Abkhaz officials to travel to Berlin in the next weeks to join a meeting of the UN secretary-generals' Group of Friends of Georgia, a group of countries, including Russia, with interests in the Georgian conflicts, which put its seal of approval on the German peace plan.
Bagapsh said there was no chance of direct talks with Tbilisi now, but did not rule out the possibility of meeting with Georgia under the auspices of the Group of Friends of Georgia, if Abkhaz demands were satisfied.
"If [the UN secretary-general's Group of Friends of Georgia] can provide real cooperation on these issues, the Abkhaz side will look at the possibility of…involvement in the Berlin meeting," Bagapsh said after meeting the German ambassador to Georgia on July 25.
That statement is milder than Abkhaz comments on July 18, when after meeting the German foreign minister Bagapsh said the German peace plan was "unacceptable," and talks with the Georgians "impossible" without Tbilisi acceding to Abkhaz preconditions.
Abkhaz leadership demand the signing of a non-use of force pact, and the withdrawal of what they say are Georgian military forces in Kodori Gorge, a small portion of Abkhazia controlled by Tbilisi, which maintains that only police units are in the area.
Bryza's visit was briefly overshadowed by a flap over comments he made in Sokhumi about the withdrawal of those Georgian troops.
"We would want that simply the negotiating process go on, that people…without preconditions, just talk. I hope that it will be like that next week. I hope, I hope, we will see," Bryza, speaking in Russian, told Abkhaz reporters on July 25. "Of course, we exchanged opinions on how to stimulate the peace process and how to convince our friends there in Tbilisi to pull out those military [voyska in Russian] troops [from Kodori Gorge], as you want."
Bryza downplayed his remarks the next day at a press conference in Tbilisi.
"The point is that each side has set of objectives that…it's trying to convince the other side to accept. The US does not have a position according to which we are asking Georgia to pull out its Ministry of Internal Affairs personnel in the Upper Kodori Gorge, so let's be clear about that, it's not our policy," he said in response to a question on the comments.
That same day Russian newspaper Kommersant published a report quoting the Georgian National Security Council secretary as saying Bryza had brought a new plan for conflict resolution on his visit.
"The plan which he brought with him consists of three elements: President Saakashvili's plan, Steinmeier's work and the initiatives of Secretary of State Condoleezza Rice, articulated by her in her recent visit to Tbilisi," Kommersant quotes the Tbilisi official as saying.