Georgia crowns new beauty queen
By Eter Tsotniashvili
Monday, July 28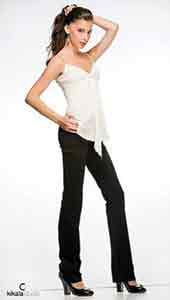 An 18-year-old Tbilisi student became Miss Georgia 2008 in a two-hour televised competition last night in the seaside resort town of Batumi.
In addition to her pride and adulation, Khatuna Skhirtladze takes home a Peugeot-207 from Iberia Motors.
22 young women from across Georgia competed to represent the nation in international beauty pageants. 13 were from Tbilisi; none were from Georgia's conflict zones of South Ossetia or Abkhazia.
The contestants gave their best attempts at looking like beauty queens as they modeled modest swimsuits, casual wear and evening dresses.
For the first time one woman was chosen as Miss Internet through online polling, while votes cast by SMS for GEL 1 went to picking Miss People's Choice. Pageant organizers said they would donate those revenues to a children's orphanage near Batumi.
Miss Internet went to Tatia Donadze of Tbilisi. The perspicacious judges also named her Miss Talent, despite the pageant lacking a talent competition. It was the sixth year of Miss Georgia, organized by modeling agency Image Center.
The jury chose winner Khatuna Skhirtladze to represent Georgia in the Miss World contest in Kiev on October 4. Runner-up Lika Orjonikidze takes on the task of battling it out for Miss Universe, and third place Kristine Dzidziguri will compete for the crown of Miss Tourism International.
This year's competition is so far without scandal, a break from last year when contest winner Nino Likuchova said she was bride kidnapped after marriage records revealed she wasn't a Miss at all.
Georgia's most successful contestant abroad was Miss Georgia 2003 Irina Onashvili, who was named Miss Talent for her singing in that year's Miss World.