Georgian duo scoop top prize in Latvian music festival
By Eter Tsotniashvili
Wednesday, July 30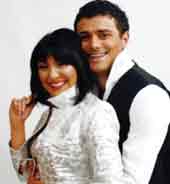 A Georgian duo won the annual international song contest New Wave 2008 in Jurmala, Latvia over the weekend.
Previous unknowns Rati Durglishvili and Maka Zambakhidze, whose act was titled "Georgia," just barely beat out their closest competitor, Russian singer Iris, in judge-awarded scores.
Crowds gathered in Tbilisi's Republic Square on July 28 to watch the award ceremony on a big outdoor screen as fireworks boomed over Tbilisi.
"I was very excited that our Georgians represented our country so well. It is not only their win, it is whole country's win," supporter Maka Abramishvili said.
The pair met at school and began singing in a quartet before they formed their duo, the mother of Maka Zambakhidze said.
They took home USD 70 000 in prize money, while Iris received USD 40 000 and Italian singer Alessandro Ristori took USD 30 000 for third place.
The festival ended with a performance from Spanish soprano Montserrat Caballe.
The last Georgian to win a music festival at Jurmala was before the New Wave festival began in 2001 when well-known singer Soso Pavliashvili took the prize 19 years ago with the song "Samshoblo."
New Wave, described as an international competition of young singers of pop music, was set up by the composers Igor Krutoy and Raimonds Pauls.
This year it began on July 23, with the jury narrowing down around 5 000 young hopefuls to 17 acts from 14 different countries. Entrants came from Georgia, Russia, Italy, Canada, Macedonia, Belarus, Armenia, German, Israel, Finland, Ukraine, Kazakhstan and Kyrgyzstan.