Heavy gunfire in South Ossetia, no injuries
By Temuri Kiguradze
Wednesday, July 30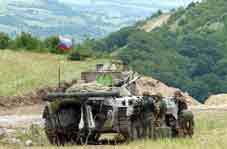 Georgian and South Ossetian forces exchanged heavy fire throughout the day yesterday over a strategic hill in the separatist region. Both sides accused each other of attacking first. There were no injuries reported.
Georgian representatives said separatist militia opened fire with machine guns and grenade launchers at targets including Georgian checkpoints at Sarabuki heights, a strategic hill overlooking the road bypassing the secessionist capital Tskhinvali.
A separatist defense official, Ibagrim Gasseyev, told reporters that Georgian troops started shooting early in the morning "from grenade launchers and firearms at Sarabuki village from illegal posts near Sarabuki" for nearly an hour. Attacks and exchanges of fire continued throughout the day, according to Gasseyev.
He said there were no South Ossetian injuries.
Mamuka Kurashvili, the Georgian peacekeeping commander, said separatist officials launched an assault on the strategic heights.
"The separatists attempted to seize the Sarabuki heights under Georgian peacekeepers' control, but they received an appropriate response and had to retreat," Kurashvili told reporters yesterday. "If attacks like this happen again, we will resort to radical measures."
The muddled accounts and conflicting accusations are typical for the South Ossetian conflict zone, where there is rarely any clarity on circumstances of clashes between Georgian and separatist forces, which operate in close proximity through a patchwork terrain of state- and secessionist-controlled areas.
Gassayev, the Ossetian official, also accused Georgian forces of assaulting an OSCE monitoring group yesterday.
A representative of the Russian peacekeeping force in South Ossetia, Vladimir Ivanov, told Russian journalists the day's attacks were part of a "planned action directed at discrediting of the activity of the combined peacekeeping contingent and the group of military observers including the OSCE."
He said there should be an urgent meeting of the practically defunct Joint Control Commission, a conflict talks body which Georgia says it will no longer participate in.
Yesterday's shooting followed a July 28 incident when armed South Ossetia militiamen reportedly fired warning shots and refused to allow OSCE observers and Russian peacekeepers to inspect engineering works in the region.