EBRD credit line for TBC Bank
By M. Alkhazashvili
Wednesday, July 30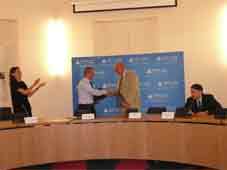 Georgia's private TBC Bank signed an agreement with the European Bank for Reconstruction and Development for a USD 35 million credit line.
The funds will be used to provide small and medium-sized enterprises with medium to long-term finance, for which there is growing demand, according to a press release from the bank.
There was a signing ceremony at the offices of TBC yesterday.
First vice-president of TBC Bank Paata Ghadzadze said everything will be done to keep consumer interests rates as moderate as possible.
TBC says it was the first Georgian company to receive an international rating. In 2007 international ratings agency Fitch Ratings upgraded TBC Bank's long-run rating from B to B+.
Its shareholders are IFC, DEG and a group of Georgian businessmen.
The EBRD one of the largest investors in Georgia's private sector, with a total of 100 investment projects in the country covering energy, transport, agribusiness, general industry and banking for a total commitment of almost EUR 520 million.