City Hall plans dog pounds
By Eter Tsotniashvili
Monday, August 4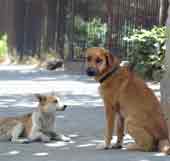 Roving packs of stray dogs are a frequent headache for Tbiliselebi—nearly one in three calls to city hotlines are about stray dogs, according to City Hall.
Now the city is planning to build its own shelters to house captured strays.
Deputy Mayor Niko Khachikishvili met with animal protection organizations last month to discuss the problem of stray dogs. The city decided it would build dedicated dog pounds to house strays which get picked up, though no details are available on when or how many would be built.
City officials say that they currently pay a contractor to round up strays and put them in private shelters.
"The problem of homeless animals is very noticeable in Tbilisi as well as in all parts of Georgia. Tbilisi City Hall cooperates with a contractor which is charged with isolating [stray] dogs and placing them in shelters," said Goga Datunishvili, deputy head of the municipal executive department, in a statement posted on City Hall's website.
Datunishvili said animals that can be treated will be given medicine, and those that are ill or a danger to people are euthanized.
In the statement, Tbilisi City Hall also insisted that "rumors about the barbaric liquidation of homeless animals are not true."
The clinics where strays are euthanized are "inspected daily" by City Hall representatives, the statement said.
The dog pounds are long overdue, say some Tbilisi residents.
21-year-old student Nini Elizbarashvili said she had to undergo shots and a two-week diet regimen after getting nipped by a stray dog in the center of Tbilisi.
"I am really afraid of homeless dogs," she said.
A doctor at the Hospital of Infectious Diseases, who declined to give her name, said they treat bites from both strays and pets.
"Last week we took in a 63-year-old man who was bitten by his dog, which was living at his home… The family did not pay attention because it was a domestic dog, but soon the dog turned out to have rabies. We are treating him, but there's no use. Unfortunately, he will not live much longer," she said.
Tbilisi City Hall says city residents can call a hotline at 37 83 37 to report stray dogs.