Georgia commemorates Ilia Chavchavadze
By Shorena Labadze
Monday, August 4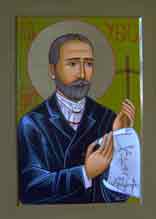 Georgia celebrated the day of Saint Ilia the Righteous on August 2. A highly-esteemed public figure and writer, Ilia Chavchavadze was canonized in 1987 by the Georgian Orthodox Church, 150 years after his birth in the eastern province of Kakheti.
He studied in St Petersburg, returning to Georgia in 1860 to lead a number of public movements and institutions. Today, every Georgian child knows him as a towering figure in modern Georgian nationhood.
In 1907 Chavchavadze was assassinated near the old Georgian capital, Mtskheta. It is still a contentious episode in Georgian history, but Social Democrats, forerunners to the Bolsheviks, are widely blamed for the deed.
Prominent Georgian writer Revaz Mishveladze said he is sure either Russian agents or Russian political proxies are to blame. Chavchavadze was opposed to the Social Democrats on one key premise, he said: the Social Democrats wanted social independence first for Georgia, while Chavchavadze insisted on Georgian national independence. Championing that cause ultimately cost him his life.
Tamar Paichadze, a professor at Ivane Javakhishvili State University, says Chavchavadze's greatest legacy is introducing European thought into Georgian society.
"Ilia Chavchavadze tried to implement positive European ideas. But at the same time he protected national self-identity," she said. "It isn't just about Russian pressure. Ilia protected Georgian cultural inheritance from any nation trying to appropriate it.
"Ilia didn't want Georgian culture locked away. He wanted it to gain its place in world culture. He knew Georgia's profitable geopolitical position, and wanted this factor to be used properly in the world's political arena."
In honor of the commemoration of the saint, the Justice Ministry's civil registry agency counted up the number of baby boys given his name in the first half of the year: 86.
There are 11 000 Ilias over 14 years old living in Georgia, according to the agency.