Six dead in South Ossetia violence
By Temuri Kiguradze
Monday, August 4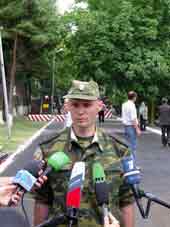 Severe violence in breakaway South Ossetia killed six and injured nearly two dozen over the weekend, and separatist authorities say they have begun evacuating women and children.
South Ossetian separatist officials said "illegal Georgian police posts" began attacking Ossetian positions on August 1, killing three Ossetians with sniper fire, and then began shelling the de facto capital Tskhinvali on August 2, killing three more and injuring several.
Mamuka Kurashvili, head of the Georgian peacekeeping forces, told reporters that his troops were "forced to open return fire" after South Ossetians attacked Georgian checkpoints and villages.
There are at least seven injured Georgians, according to the Interior Ministry. The South Ossetian separatist security council secretary claimed more than two dozen Georgian dead.
Tskhinvali claimed that Georgian forces used armored vehicles and heavy arms in the fighting. Kurashvili denied that. He also suggested that Russian peacekeepers were involved in the attacks, a claim strongly denied by Russian representatives.
The attacks had stopped as of last night, but the South Ossetian separatist press service claimed yesterday that Georgian artillery units have been deployed to the region, and that Georgian infantry have been mobilized. Tbilisi denies the claim.
Yesterday the separatist authorities also announced that they have begun evacuating women and children from the region to adjacent North Ossetia in Russia.
Valery Ivanov, an officer with the Russian peacekeeping forces in South Ossetia, told Russian news agency RIA-Novosti that South Ossetian evacuees began leaving the area on August 2.
South Ossetian separatist leader Eduard Kokoity regularly talks about joining his breakaway territory with Russia's North Ossetia, where a thousand people demonstrated yesterday in solidarity with their southern neighbors, according to Russia's Interfax news agency.
Interfax reported that demonstrators were ready to call on volunteers to head south and join the fighting if needed.
The Russian Foreign Ministry issued a statement on the situation in South Ossetia warning: "the danger of large-scale military action between Georgia and South Ossetia is getting more and more real."
The statement accuses Tbilisi of conducting "open military maneuvers near Tskhinvali, gathering troops and armed vehicles for the zone of the Georgian-Ossetian conflict."
Moscow called on all sides to be "maximally restrained" and urged the signing of a non-use of force pact, "which could avoid the danger of war."
Georgian officials say Russia, far from being a neutral peacekeeper in the region, is propping up the separatist regime. In an August 2 statement, the Georgian Foreign Ministry said the Russian-dominated peacekeeping format has failed to make any progress in South Ossetia.
Georgia's top official for conflict issues, Temur Iakobashvili, traveled to state-controlled portions of South Ossetia on August 2 where he spoke with the chief of the Russian peacekeepers, Marat Kulakmetov.
Kulakhmetov, in a televised interview, placed blame on both the South Ossetian and Georgian sides and appealed for the start of direct talks to deescalate tensions.
Earlier, speaking to Georgian journalists, Iakobashvili suggested that Russian peacekeepers could have had a hand in the violence. Moscow denied that, with Russian Defense Ministry spokesperson Alexander Drobyshevsky telling reporters the suggestion is "dirty informational provocation."
On August 2 the head of a Russian paratrooper unit said that Russia "will not let anyone offend its citizens living on the territory of South Ossetia," where many residents are thought to hold Russian passports. He said the paratroopers were ready to go to the conflict zone if needed.
The weekend's violence stands as one of the most tense episodes in South Ossetia since 2004, when more than a dozen Georgian soldiers were killed in clashes that ended with Georgia in possession of strategic heights in the region, which is a patchwork of secessionist- and state-controlled villages.