EU could expand role in Abkhazia conflict resolution
By Mikheil Svanidze and Winston Featherly
Wednesday, August 6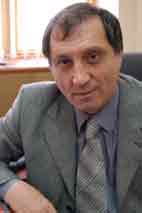 Tbilisi said yesterday that the European Union is planning to expand its role in conflict resolution for breakaway Abkhazia, where peace talks have sputtered to a halt amid increased violence in the region.
There were no specifics on what an expanded EU role could bring. Georgia routinely calls for Western mediation in the secessionist conflict; Moscow, in contrast, has said it would rather see conflict resolution carried out between the Georgians and the Abkhaz, with itself as mediator.
Celine Ruiz, a Council of the European Union representative for security and defense policy, said the proposal's "idea is to reinforce the role of the EU" in conflict resolution, though the plan is "still in gestation."
The internal document would need to be approved by the Council, she said. That could come in mid-September when the Council convenes, though the agenda for that session has not yet been set.
Tbilisi hailed the document as a step toward the international community expanding its involvement in Abkhazian conflict resolution.
"Georgia welcomes this decision as an important step in strengthening the role of the international community in resolving the separatist conflict. The EU's move will help break the discredited monopoly held by the Russian Federation in providing security on the ground and in facilitating the peace process," read the Georgian Foreign Ministry statement.
Foreign Ministry spokeswoman Khatuna Iosava said Tbilisi's optimism is based on a verbal agreement between Georgian, French and Czech diplomats.
In another public boost yesterday to Georgia's diplomatic efforts, Estonian Foreign Minister Urmas Paet called for EU members to take on peacekeeping tasks in Georgia's breakaway regions.
"Peacekeeping in these regions [Abkhazia and South Ossetia] is a suitable undertaking for the European Union," the Estonian Foreign Ministry's press service quoted Paet as saying.
Spokesman Lauri Matsulevitsh said the statement was made on behalf of the Estonian minister alone.
Abkhazia and Russia both say they will not renegotiate the current Russian-led peacekeeping format, which Georgia argues is propping up the separatist regime and pushing Moscow's interests.
A German-backed peace plan which is now a basis for conflict negotiations would keep the Russian peacekeepers in Abkhazia, reports say. Georgia seeks to replace the Russian troops with an international force.
The German plan—which has at least nominal approval from the UN secretary-general's Group of Friends of Georgia, a group of countries including Russian with interests in Georgia's separatist conflicts—ran into a hurdle after the Abkhaz said they would not join talks in Berlin scheduled for the middle of this month.
"We pulled out of talks in response to the situation in South Ossetia. Our further decisions will depend on the situation there," de facto Abkhaz foreign minister Sergey Shamba said yesterday.
Separatist leadership say they cut all ties with Tbilisi last month after a series of bomb blasts in Abkhazia which they blame on Georgian forces.
Shamba denied reports that Abkhazia declared a state of emergency after a severe spate of violence in South Ossetia, Georgia's other breakaway region.
The separatist official said that Abkhazia will be providing "assistance" to its fellow self-declared republic.
"We will work with South Ossetia on the basis of previously-reached agreements. We aren't going to say out loud what exactly our assistance will be," Shamba told the
Messenger
yesterday.
On August 4 Georgian government and media reports said breakaway Abkhazia declared a state of emergency in response to the violence in South Ossetia, which killed six and left about two dozen injured over the weekend.