Georgians Everywhere Defy Russia
By Shorena Labadze
Wednesday, August 13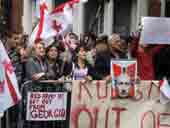 With the war between Georgia and Russia escalating daily, Georgia's President Mikheil Saakashvili addressed the nation on August 12 and called upon the people to gather in front of the Parliament building in Tbilisi so the entire world could see that the Georgian people are united.
"I want to tell our enemy that in spite of their devastating aggression they can't force us to our knees. Maybe they have thousands of tanks and great power, but they don't have the main thing - dignity. That is how they differ from us. You can't destroy our determination. You can't put fear into our hearts!" said Georgia's President as he addressed the aggressor.
The Georgian people didn't disappoint the President. Tens of thousands stood in front of Parliament the next day, screaming "long live Georgia!". The President himself also attended the rally, addressing the people with strong patriotic words and convincing them that Georgia had won the war against Russia spiritually and morally.
"Georgia's fate was to become a sacrifice to a huge aggressor; Georgia's fate was to become the defender of European states from this gigantic aggressor. Georgia is the first country to dare to resist this massive power. If Georgia fails, this will mean Ukraine is next, then Lithuania, Latvia and the whole of Europe. This world has got to understand this problem," Saakashvili said.
At the end of his speech the President announced that Georgia has taken the long wished-for step of leaving the Commonwealth of Independent States. This news was greeted with deafening applause by the people.
Almost every state representative present made comments during the rally. They spoke about the historic dignity and rich culture of the Georgian people, thanked the nation for being united and promised that Georgia "will never fall down on its knees in front of Russia and its warmongering leaders". The President called on the people to move to Sameba church and pray with the Patriarch for peace and the wellbeing of Georgian soldiers.
Before the mass rally began, public figures had also gathered at the Rustaveli State Theatre.
There, in response to a question about whether the unification of the Georgian people would have noticeably positive results, prominent Georgian director Rezo Esadze said it is most important for Georgians to be together as one body. "When a person has an ache in this or that organ, their whole body is out of shape. After the person recovers, their organism regains health, strength and unity. So we must by all means be together, and what is most important - we must maintain spiritual strength," Esadze said.
The rally in front of Parliament, and the gathering at the Rustaveli theatre, are not isolated incidents. People from all walks of Georgian life, regardless of gender, age or status, are actively supporting Georgia, its sovereignty and its soldiers in this time of crisis.
In Tbilisi, which was almost empty a few days ago as its residents had gone to different parts of Georgia on holiday, a mass of people now walk around with their heads down, staring into space, with expressions of great grief on their faces. Metro stations are full of people with traveling bags and children with lost expressions in their eyes. It's easily to see that they are not Tbilisi residents.
It may be a contradiction, but people who are profoundly concerned, to the point of being in agony, about the lives of Georgian soldiers on the battlefields say they don't care about their own lives now, after seeing what the country as a whole is going through.
"What is the meaning of my life now? I am not a pontificator, I really would put my life at risk if I could save even one drop of our guys' blood. I am going crazy because I am not allowed to go to the battlefield because of my physical defect. My blood goes up to my head. I am here and can't do anything to help them," economist Mirian Shiomgvdlishvili, 55, said.
In spite of rumours that Russia was going to bomb Tbilisi on August 10, tens of thousands of Georgian people gathered in Republic Square to support Georgian soldiers risking their lives to protect their homeland. The rally was organized spontaneously by prominent Georgian public and cultural figures who led the meeting. People holding white candles shouted encouraging words and sang the Georgian national anthem. A message written in lighted candles by the people in the square - "STOP RUSSIA" – was clearly visible to an international TV audience.
Actors, singers, state representatives and national figures addressed people from a stage with patriotic words. The mothers of Georgian soldiers involved in the fighting also attended the meeting, holding a long white cloth as a symbol of peace, which said as the candles did - Stop Russia. "This cloth represents the peace which has been broken by Russia's intervention. We call on Russian soldiers' mothers to unite with us in their hearts and demand an immediate ceasefire," Georgian mother Nino Tsikhistavi told a Rustavi 2 correspondent. She explained that they had also prepared a special text to send to Russian soldiers' mothers.
The meeting was accompanied by non-stop honking from passing cars expressing their support. Georgian singers arrived, with a special song about the current situation they had written for the occasion. "Of course we are not in the mood for singing, but it will form an extra response to Russia's military aggression. Russia must know that Georgia isn't a country that will be forced onto its knees. Russia has tried to destroy us throughout history, but hasn't been able to do it in spite of its geographical size," a young Georgian singer called Lekseni said.
Late in the evening the mass gathering moved from the square to the Tbilisi OSCE office, where people stood silently to highlight "the silence expressed by international organizations" as they put it. Prominent Georgian writer and poet Davit- Depi Gogibedashvili called the meeting a "silent protest." "What else can we say that hasn't already been said during these days? Everything has been said, everything is clear to everyone. This gathering has two meanings. Firstly it signifies that we have nothing to say because everything is already clear to people all over the world. Secondly we bring attention to the silence of the international community at this time," Gogibedashvili said.
Georgian cultural figures gathered at Rustaveli State Theatre to express their protest against Russia's aggressive actions and encourage the Georgian people and their soldiers. They are working on a document they will send to the Russian Federation asking it to stop the fighting. "We need a good organizer now who will bring all these people together again," Georgian producer Gocha Kapanadze said.
Members of the Georgian team at the Beijing Olympic Games expressed their wish to hold a protest rally and demanded that Russia be expelled from the Games. They threatened to leave Beijing if this demand was not met. Georgia's President Mikheil Saakashvili however asked the Olympians to continue competing to gain fame for Georgia. "Georgia needs your victories more than ever," said Saakashvili as he addressed the sportsmen. The team held a protest rally anyway, making the same demand - Stop Russia.
Anti-Russian and pro-Georgia protest rallies were held in different countries of the world by Georgians living there. In the United Kingdom, Germany, Italy, USA, Greece, Turkey and many other countries, both Georgians and local people expressed their concern in front of Russian embassies.
"The people are shocked, they are extremely emotional. The Georgian Diaspora in London is very active, all day and every day they are walking the streets with posters saying "Stop war, we want peace!" The local population is also expressing solidarity with us. At yesterday's protest action our main goal was to ask the British government and society to make an adequate response to Russia's aggression against Georgia. We are all shocked that civilians and journalists have been killed; this is a disaster, brutality. We will carry on protesting here in London until the international community takes effective steps to stop this madness," Keti Sikharulidze, a Georgian citizen in London, told The Messenger on August 11.
Opposition leaders both in and outside parliament have united in announcing that they are backing Georgia's President during the current crisis as "it is not the Kremlin's business who will be the President of Georgia". "It is not for the Kremlin to decide who the leader of Georgia is. The Georgian people will decide for themselves who runs their country," former Presidential candidate and United Opposition leader Levan Gachechiladze, who has refused to enter the parliament, said. Another opposition figure, MP Gia Tortladze, expressed the same sentiments. "Georgia is an independent country and no one has any right to interfere in its internal affairs. Georgia's opposition forces will always be standing exactly where the Georgian people are," Tortladze said.
The spiritual leader of all Georgia, Catholicos-Patriarch Ilia II, expressed deep concern that "Georgia is being bombed by a country with the same religion". "It is unprecedented that one country bombards another which has the same Faith. This is the greatest mistake of Russia. Unfortunately we are in great jeopardy, but do not be afraid. There is a saying: water goes here and there and eventually finds its bed. God is with us. God's mercy will save Georgia. We have to intensify our prayers. God saves Georgia," The Patriarch said to encourage the Georgian people.