Russian "Peace" declared
By Mikheil Svanidze
Wednesday, August 13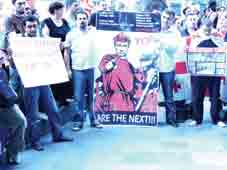 Russian President Dmitry Medvedev declared "an end to the peace enforcement operation" yesterday, after Russian troops had invaded Georgia proper on the night of August 10.
"The aggressor is punished, and its military forces are unraveled," Medvedev said yesterday.
The announcement came after President Medvedev had spoken to Nicolas Sarkozy, French President who was visiting Moscow to discuss the ongoing war and conflict resolution possibilities with the Russian President. Sarkozy, along with the Polish, Estonian, Lithuanian and Latvian Presidents, was scheduled to visit Tbilisi late yesterday evening to discuss the ongoing situation in Georgia with local officials.
On August 11 US President George W. Bush had made a special statement condemning the entry of Russian troops onto Georgian territory. "I am deeply concerned by reports that Russian troops have moved beyond the zone of conflict, attacked the Georgian town of Gori and are threatening Georgia's capital of Tbilisi," he had said from the White House Garden late evening Georgian time. "There is evidence that Russian forces may soon begin bombing the civil airport in the capital city. If these reports are accurate, these Russian actions would represent a dramatic and brutal escalation of the conflict in Georgia." Russian officials said the movement of their troops was a part of their "peace enforcement operation" in defence of Russian citizens, which most South Ossetians claim to be.
Russian forces, according to Mikheil Saakashvili's address to the nation late yesterday evening, "have cut Georgia in two" by entering the city of Gori and seizing control of the Tbilisi-Batumi highway. Most of the civilian population has reportedly fled from the city, which is about 30 kilometres from the conflict zone. The sound of warplanes flying over Georgia was heard by witnesses all over the country as Georgian officials were announcing a ceasefire.
While being interviewed in Gori on the afternoon of the previous day, Georgian President Mikheil Saakashvili was rushed into a building, his security personnel fearing another Russian plane attack. Georgian Ministry of Internal Affairs (MIA) spokesperson Shota Utiashvili said that two Russian planes had been seen close to Saakashvili, and he was evacuated from the area by his guards. A couple of hours later, Saakashvili spoke of "a deadly threat to Georgian statehood." "We want this military confrontation to end immediately," Saakashvili said in a televised statement.
Multiple targets across Georgia were the subject of overnight strikes by Russian military aircraft on August 10 and 11.
Russian 'peacekeeping' troops entered deep into Georgian territory from the west on the evening of August 10, moving toward the town of Senaki, where there is a Georgian military base. Senaki is not within either of Georgia's conflict zones. Georgian police reportedly escorted them, showing no resistance. Zugdidi, a city in Samegrelo, had already been taken by Russian forces. "The so-called Russian peacekeeping forces [deployed in the conflict zone], and Russia's regular army units have entered Zugdidi and now control the local police headquarters," said Shota Utiashvili. Earlier that day, Abkhaz military officer General Chaban had demanded that Zugdidi police be disarmed. Georgian officials said that they did not comply with the demand. Zugdidi is within the buffer zone between Abkhaz and Georgian-controlled territory.
According to a Georgian government report on the morning of August 11, at least seven different civilian locations had been bombed in overnight attacks by Russian planes. The first assaults at about midnight had targeted a Georgian-controlled enclave in Abkhazia, the Upper Kodori Gorge, and reportedly left 5 policemen wounded. Missiles then hit the military aerodrome in Senaki in Western Georgia and an airfield in Dedoplistskaro Province, in the extreme east of Georgia, which has not been used for fifteen years. Further civilian sites were hit yesterday, in the Kaspi district between Gori and Tbilisi, the town of Agara west of Gori and the village of Variani in the same district.
Radar stations on mount Makhata and the village of Shavshvebi, in the proximity of Gori, were hit on August 10. No casualties were reported, but the radars were been badly damaged. Villages in the Autonomous Region of Adjara in southwestern Georgia, which have no military facilities, were also hit on that night, as was a tank battalion close to Gori.
In Tbilisi, a sense of panic was evident as people lined up at shops, pharmacies and gas stations for supplies. Many have reportedly fled eastward, to Kakheti Province which borders Azerbaijan. At one point Georgian troops were stationed on the outskirts of Tbilisi, in the Digomi district. They were reportedly withdrawn later yesterday morning however, when Russian forces showed no obvious intention of pushing towards the capital.