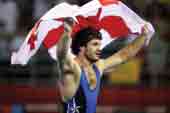 Georgia won two gold medals yesterday at the Beijing Olympics. Manuchar Kvirkvelia won the first, in the Men's Greco-Roman Wrestling 74 kilogram weight class, defeating China's Chong Yongxiang. The second was won by Irakli Tsirekidze in the Men's Judo 90kg class, who reached the final by defeating Russia's Ivan Pershin by hold down. In the final he beat Amar Benikhlef of Algeria with a shido.
(more)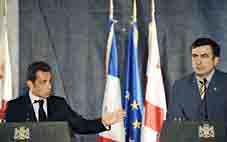 United States President George W. Bush has made a statement condemning Russian military adventures in Georgia, welcoming French peace efforts and sending Secretary of State Condoleezza Rice to France and Georgia to take part in negotiations.
(more)
An immense flow of former residents of Gori, Tskhinvali and almost every Georgian region, who have been forced to leave their homes by Russian "peacekeepers," has dispersed to different regions of Georgia.
(more)
Three days of mourning declared in Georgia
(more)
"Georgian banks resume work"
(more)