Prisoners Exchanged on Georgia's Terms
By David Matsaberidze
Wednesday, August 20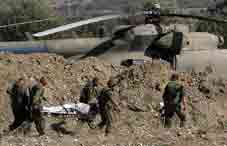 On August 19, 2008 an exchange of Georgian and Russian Prisoners of War took place at Igoeti, halfway between the cities of Gori and Tbilisi, under the supervision of the chairman of the State Security Council Alexander Lomaia. The exchange principle set by the Georgian side – all for all – was respected by the Russians. Former Georgian Prisoners of War declare that they were treated awfully, being tortured and disrespected by the South Ossetian separatist formations and Russian soldiers. The Georgian soldiers being exchanged were transported by emergency vehicles under the supervision of doctors. The Georgian side handed over the pilots arrested after Russian warplanes were shot down near the city of Gori.
The exchange followed an official statement made by the Ministry of Defence later yesterday evening. Deputy Minister Batu Kutelia stated that: "The Russian side has spread false information that the Georgian side frustrated the negotiations on exchanging the Prisoners of War", TV Rustavi2 reported.
According to Kutelia, the Georgian side confirmed several times its readiness for an immediate exchange of prisoners according to the principle of all for all, but unfortunately the Russian side failed to act in accordance with this principle, by offering an inaccurate list of the captives it held. The real figure of Russian prisoners in Georgian hands was also considerably lower than the Russians quoted. "Moscow is trying to manipulate this issue for as long as it enables her to delay the process of withdrawing of its occupation forces from Georgia", Kutelia stressed in his interview.
The Ministry of Defence made an official statement on August 19, confirming that the exchange had involved fifteen Georgian and five Russian servicemen. "The exchange was carried out on the principle of all for all," Nana Intskirveli, the Georgian Ministry of Defence's spokesperson, told
Civil Georgia
on August 19. The Russian side had earlier reported that there were fourteen Georgian servicemen and five Russian soldiers being held. Later they reported there were about fifteen Georgian and twelve Russian servicemen who could be exchanged. The Georgian Ministry of Defence declined to specify the number of Prisoners of War, Civil Georgia reports.
Russia is still trying to blame Georgia for manipulation of the prisoner numbers. Anatoly Nogovitsyn, Deputy Chief of the General Staff of the Russian armed forces, stressed that an initially agreed exchange of prisoners on August 18 had failed because Georgian side had posed additional demands, trying to bargain hostages for some other benefits.
After returning to Tbilisi, the exchanged Georgian soldiers were taken to Gudushauri Hospital for medical check-ups and further treatment. Interviewed before leaving, the Russian pilot captured near Gori, who was part of the Russian contingent exchanged, expressed his satisfaction with his treatment by Georgian medical staff at the hospital.