NATO-Georgia commission to be set up
By Mikheil Svanidze
Wednesday, August 20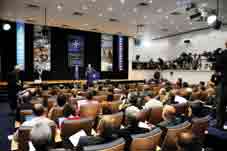 NATO has expressed its support for Georgia at a Foreign Minister meeting yesterday, held to discuss the ongoing situation in the country.
The emergency session, held in NATO headquarters in Brussels, decided to set up a NATO-Georgia commission to "supervise the process set in hand in Bucharest." Georgia was denied a Membership Action Plan (MAP) for NATO membership at the April Bucharest summit, but was promised eventual membership. The next scheduled NATO summit to discuss granting a MAP to Georgia, and also to Ukraine, is due to be held in December.
After the meeting a press release was issued. This states that "These measures [discussed at the meeting] are intended to assist Georgia, a valued and long-standing partner of NATO, to assess the damage caused by the military action and to help restore critical services necessary for normal public life and economic activity". It also describes Russian military action in Georgia as "disproportionate and inconsistent", slamming Russia's "deliberate destruction of civilian infrastructure."
NATO Secretary General Jaap de Hoop Scheffer, interviewed later, reiterated the organisation's "full respect" for the sovereignty and territorial integrity of Georgia. "Abkhazia and Ossetia …. are part of Georgia, and a solution [to these conflicts] will clearly have to be found. But this is what is meant by recognizing territorial integrity and sovereignty," he said. The Secretary General also noted that NATO's relationship with Russia, as expressed through the NATO-Russia Council could not continue on a "business as usual" basis, but he clarified that NATO would continue cooperating with its Russian "partners."
The NATO statement calls on Russia to respect the six-point ceasefire agreement signed by the Georgian and Russian Presidents and withdraw its forces to the positions they were in before the outbreak of hostilities. Russian officials, however, said the withdrawal of their troops would depend on Georgian President Mikheil Saakashvili's actions. "Complete withdrawal depends on the policy of Saakashvili and the actions of his forces," Russian ambassador to NATO Dmitry Rogozin said.
Russian Deputy Chief of the Military General Staff, Anatoly Nogovitsyn, further accused Georgia of not complying with the ceasefire agreement. "Even though Mikheil Saakashvili signed the six principles, under which he obliged his troops to return to their permanent stations, today we are seeing that this is not happening," Russian State news Agency Interfax quoted Nogovitsyn yesterday as saying.
Under the six point plan, brokered by French President Nicolas Sarkozy, both Russian and Georgian forces must withdraw to the locations they occupied before the outbreak of hostilities, but Russian peacekeepers have a right to undertake "additional security measures" before an international peacekeeping mechanism is established in the conflict zone.
United States Secretary of State Condoleezza Rice, who also attended the NATO foreign ministers' meeting, reiterated her full support for Georgia. "We are going to send the message that we are not going to allow Russia to draw a new line at those states that are not yet integrated into the transatlantic structures, like Georgia and Ukraine," she said. Since the war began, Russian officials have never expressed their support for Georgia's territorial integrity, although they did previously.