Sun slowly rises over refugees
By Shorena Labadze
Thursday, August 21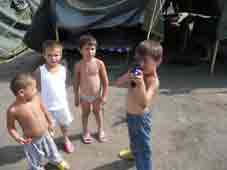 People forced to leave their homeland and homes, as a result of Russia's cruel aggression, are still sheltering in different places in Tbilisi and in regions throughout Georgia.
The
Messenger
has again visited the so-called "city of tents" to see what has improved since our last visit on August 14. The tents are still full of IDPs from different parts of Georgia. But they are less visibly distressed than they were then and most of them thank government officials for attending to them.
"No one can deny that they are caring and helpful towards us. I would identify Koba Subeliani [MP] as especially kind and attentive. He even supports us morally and it's great relief for us," a refugee from Eredvi near Gori said.
Only tarpaulins and bare asphalt were there when we last visited. Now the refugees say they can't complain, as they have enough food and everyday items. We could see prefabricated metal boxes which can be assembled to make cooking facilities, which had arrived as part of a humanitarian aid consignment.
"We have access to baths and toilets; we have electricity, water, even television. So, on the whole, there is nothing to protest about," Natia Vashadze, a refugee from Gori, said. People also said that pregnant women and mothers with babies are being given special care.
Lali Kartvelishvili, a refugee from Didi Gareji, said she had heart problems and when doctor Nino Ivanishvili examined her, she found that for her particular disease there were no medicines available. "So she went and bought medicines for me at her own expense. I want to thank her through your paper," Kartvelishvili said. She also told us about her husband, who came to the camp from his village on August 19. He sent his family to Tbilisi and stayed in his house with his elderly father when the attacks began. "But as he wondered where and how we were, he decided to come here. He went to Shavshvebi, near Gori, to try and find a way here. Russian and Ossetian soldiers dressed in our soldiers' uniforms captured him and beat him dreadfully. Then he was released and someone kind man brought him here. He was treated and now feels better," Kartvelishvili said.
A refugee from the village of Karaleti, Naira Kasoshvili, said she had left her mother-in-law and father-in-law behind and has heard nothing about them since August 7. "We do not even have telephone access as the communication antennas have been destroyed. So we can't find out whether they are still alive or not. The Russians aren't allowing humanitarian aid to be brought there," Kasoshvili said. On August 20 Shida Kartli Regional Governor Lado Vardzelashvili told Rustavi2 that Russian soldiers were not allowing humanitarian aid to be brought to Gori. Vardzelashvili quarrelled with them and was detained by the occupation forces for two hours until he was released after negotiations. "While we were arguing Russian officer's telephone rang and having finished speaking he said he had received an order to detain me. Then our officials managed to make them release me. But now we have heard they are going to capture me and the local village governor," Vardzelashvili said.
There were more than 300 people in the "city of tents" when we visited, but the number is increasing hourly. Sometimes more tents are erected; sometimes the people already there have to squash their beds together to let others come in. There are about 30-35 people in each tent. Despite this, people aren't complaining about living conditions, but they also say they won't be able to bear it for a long time.
On August 17 Pope Benedict XVI called on Russia to withdraw its troops and also urged the whole world to give as much humanitarian aid to Georgian IDPs, especially women and children, as they can. On the previous day Estonian Foreign Minister Urmas Paet visited Georgia and went to Tbilisi Republic Hospital to see wounded Georgian soldiers and the refugees in the "city of tents". Tallin has sent humanitarian aid to Georgia. Aid floods in daily from the USA, Turkey, Jordan, Ukraine, Greece, Poland, Latvia, Lithuania, Estonia, Italy, Norway and many other countries. UNICEF and other international organizations are also helping Georgian refugees.
While a refugee was speaking to us about conditions in the camp, a military plane appeared in the sky above. At first people turned pale, but in seconds they were calming each other down, saying it was a Georgian plane not a Russian one. Frankly speaking, it was a surprise that they could see the nationality of the plane from ground level.
Since we were last there the camp has been given a new name – DILA which means morning in Georgia . Let's hope the IDPs sheltering there will very soon see a bright new morning in their native land.