Court to declare whether Russia is racist
By David Matsaberidze
Tuesday, September 9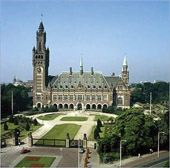 On September 8 the International Court of Justice (ICJ) in The Hague opened hearings into Tbilisi's allegations of the ethnic cleansing of Georgians in the Tskhinvali Region. The hearings will consider Georgia's request for the court to take provisional measures which would prevent further instances of ethnic cleansing.
Georgia first officially accused Russia of ethnic cleansing on August 12, A first joint press conference by Georgian Deputy Minister of Justice Tina Burjaliani and the Georgian Government's legal team side has been scheduled for today. Tbilisi hopes that a substantive hearing of its allegations, having presented its arguments, will follow in no more than a few days. The Georgian side will deliver its arguments, which are likely to last for up to 3 hours, and the Russian side will respond with its own arguments.
Payam Akhavan, a law professor at McGill University in Canada, is heading the legal team presenting the suit. At a special briefing on August 21, the Professor said that he believes "there is overwhelming evidence of wrongful conduct on the part of the Russian Federation." Georgia claims that Russia violated its obligations under the 1965 International Convention on the Elimination of All Forms of Racial Discrimination (CERD) "during three distinct phases of its interventions in the South Ossetia and Abkhazia," between 1990 to August 2008. Georgia also claims that more than 400,000 of its citizens, almost 10 percent of its population, have been forcibly driven from their homes by a Russian-backed campaign of violence and intimidation since its declaration of independence in 1991.
The Georgian lawsuit reads as follows: "The Russian Federation, through its state organs, state agents, and other persons and entities exercising governmental authority, and through the South Ossetian and Abkhazian separatist forces, and other agents acting on the instructions of, and under the direction and control of the Russian Federation, is responsible for serious violations of its fundamental obligations under the CERD, including Articles 2, 3, 4, 5 and 6. The application alleges violations of Articles 2 (right to life) and 3 (prohibition of inhuman and degrading treatment) of the European Convention on Human Rights and Article 1 of its Protocol No. 1 (protection of property)" said Georgian General Prosecutor Nika Gvaramia, who added that the court was considering Georgia's application urgently.
As a countermeasure, Russia is further stepping up its international efforts to push its allegations that Georgia's actions in South Ossetia amounted to the "genocide" of the Ossetian people. Russia has claimed that about 2,000 Ossetians were killed after Georgia launched a military assault on the breakaway region, but only quotes a figure of 33 civilians, who they say were killed by Georgian forces, in its legal case. However, the Russian General Prosecutor's Office (GPO) has not ruled out taking legal action against President Saakashvili. As GPO spokeswoman Marina Gridneva stated, "The evidence collected could be used both for appealing to international courts and for considering crimes against Russian citizens living in South Ossetia, accusing Georgia of genocide on August 13. Hundreds of citizens [of South Ossetia] are preparing complaints to be filed to the international courts." Payam Akhavan stressed that "If Russia has evidence that Georgians conducted ethnic cleansing, they may present it to an independent court. Georgia has nothing to hide," further adding that Russians have conducted ethnic cleansing outside the conflict zone too, pointing to the operation in the Gori district, lasting more than a week. The General Prosecutor's Office of Georgia hopes for success in The Hague. "The International Court of Justice will deliver a verdict in favour of Georgia by taking temporary measures against Russia before the final decision," Nika Gvaramia stresses, adding that any temporary measures would taken immediately to force the Russian Federation to halt its genocide and discrimination. "The final decision on the issue will emerge in two weeks, and the substantive hearing will start a bit later."
Cases heard by the court sometimes take years to resolve, but Georgia's Ambassador to The Netherlands says she is hoping for a swift decision. "We know such procedures can take years but we are prepared to be very patient," Ambassador Maia Panjikidze stressed. "I believe the court will not take as long over this case as some others because the situation on the ground is really very difficult now and we need a decision very soon because the population is suffering," Panjikidze concluded.
Georgia will use the court symbolically to try and cast Russia in a bad light, said Andre de Hoogh, Senior Lecturer in International Law at Groningen University in The Netherlands. "The prospects of Georgia winning the case are slim unless it can prove Russia's actions were inspired by racial discrimination", he stressed.