ANNOUNCEMENT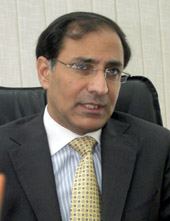 The Chairman of the Supervisory Board of KOR STANDARD BANK, H. H. Sheikh Nahayan Mabarak Al Nahayan, has announced the appointment of Mr. Adnan Anwar Khan as General Director of the bank. Mr. Khan brings with him over 26 years of international banking experience in Corporate Finance, Risk Management and Branch Banking. Prior to his present appointment he held senior positions in various banks in the Middle East and Pakistan.
We are confident that with Mr. Khan's appointment KOR STANDARD will enter the next phase of its development and become one of the leading banks in Georgia and a preferred choice of customers for all banking services.
KOR STANDARD BANK is part of the Dhabi Group, a United Arab Emirates (UAE) based investment group which operates in the Middle East, Indian Subcontinent and Africa, with assets in excess of US$ 10 billion.