Georgia hails Sarkozy-Medvedev agreement
By Temuri Kiguradze
Wednesday, September 10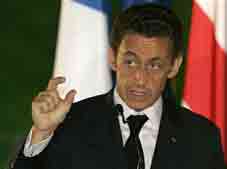 The decision to pull Russian troops out of Georgian territory is a "step forward," said Georgian president Mikheil Saakashvili at a televised briefing with his French counterpart Nicolas Sarkozy on September 9.
Nicolas Sarkozy had arrived to Georgia after meeting the President of Russia Dmitry Medvedev in Moscow on September 8. During four-hour long negotiations the Russian and French leaders reached an agreement on the withdrawal of Russian troops within one month. However troops will remain in Abkhazia and South Ossetia.
Speaking in Tbilisi, Sarkozy announced the EU's continuing support for the territorial integrity of Georgia and said that it would send 200 military observers to Georgia in October. He assured the Georgian President that "Russia will keep its promise" to withdraw its troops by October 15. Russian Foreign Minister Sergey Lavrov, as quoted by Russian news agency Interfax, said EU observers will be placed in and around the conflict zones and "will help to prevent the attempted use of force by Georgia."
"Europe will carefully monitor the fulfillment of the agreement reached with President Medvedev," Sarkozy said at the briefing. The Georgian President added that EU observers will, "step by step," cover the whole territory of Georgia, including the conflict zones.
According to the ceasefire agreement signed on August 12, the Russian Army was obliged to leave Georgia on August 22. This did not happen, and Russia has erected several military posts on Georgia territory. Georgia has declared the Russian forces to be illegal occupiers and has annulled the peacekeeping mandate Russia has had since 1994. "Georgia will never give up its sovereignty or any part of its territory," stated Saakashvili in condemning Russia for its decision to recognize Abkhazia and South Ossetia, Georgia's breakaway regions.
According to independent Georgian political expert Ramaz Sakvarelidze, the fact that even Sergey Lavrov welcomed the decision on the deployment of EU observers and announced the start of the pullout means that the Russian political elite is behind this decision. "It seems that Russia is really going to fulfill the [Sarkozy-Medvedev] agreement," says Sakvarelidze.