Killer floods sweep Tbilisi and regions
By Sopo Datishvili
Monday, September 22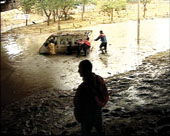 Heavy rain flooded some Tbilisi districts and outlying regions of the country overnight on September 19 -20. So far eight fatalities have been reported.
The rain poured into Tbilisi International Airport on September 20, forcing it to cancel several flights. The roof of the main airport building was extensively damaged. The owner of Tbilisi International Airport, the Turkish TAV company, had been intending to start repair work to this building this summer but the strained situation in the country had forced a temporary change of plan.
At Lilo Market, one of the biggest trading centres in Tbilisi, containers loaded with different goods were turned over, causing serious financial loss. As its Director Gia Kvaratskhelia says, the full extent of the damage has not been calculated yet as the administration is trying to restore the essential infrastructure of the facility. The usual work mode has been partially reinstated.
The Tbilisi-Kakheti highway was also affected by the natural disaster. Near the village of Gamarjveba the rolling water dragged a trailer for a long distance. Passengers were taken out of cars by rescue workers. Heavy rain caused also traffic jams on the Rustavi highway.
On September 20, the ground floors and basements of houses in the district of Isani-Samgori were all underwater. The fire brigade spent hours helping people escape from the enormous inflow of water, which in some places reached three metres. The Deputy Mayor of Tbilisi and other officials visited the district to observe the situation. On September 21, heavy rain wrecked 10 m high dams in the Gardabani district and the village of Lochini was overflowed by water from three nearby lakes. Three people were killed. "The water took away all our properties. We need help," Guram Varshanidze, a local resident, said. The yards in the village are filled with water, and fish from the lake are swimming around there and can easily be caught.
In Sartichala the water is 1.5 m deep. "We jumped out of the window to save ourselves. We took nothing with us," local resident Khatuna Karalidze told Rustavi 2. The extent of the damage in this district is also not calculated yet. The flood has broken down the house of the Akofiani family in Gakhokhidze Street, Tbilisi. Luckily they managed to get out of the building in time. There were no casualties at this site.
In Kakheti, hail has damaged the harvest of grapes (Kakheti is main winemaking region of the country). In spite of this, wine factories will still accept the hail-affected grapes, as they are the main source of income for local farmers.
The climate change which created these floods is actually quite natural for this time of year. According to the official site of the Meteorological Centre of Georgia, there will not be much change in the weather over the next 3 days.