Kokoity tells Georgians to renounce their citizenship
By Temuri Kiguradze
Monday, September 22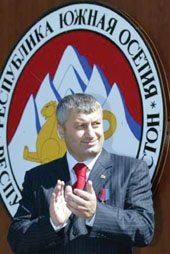 Ethnic Georgian refugees from South Ossetia can return to their homes only if they renounce their Georgian citizenships and take South Ossetian passports, says the de facto leader of South Ossetia Eduard Kokoity.
"We will return to the Republic's territory all refugees who hold the citizenship of South Ossetia, regardless of their ethnicity," Kokoity said in the statement posted on the South Ossetian Press and Information website. "Ethnic Georgians, who lived in the territories occupied by Georgia [meaning Georgian villages on the territory of breakaway region], are concerned, but rest assured, we are giving them the opportunity [to return], as long as they give up their Georgian citizenship and take the citizenship of the Republic of South Ossetia," states Kokoity.
Kokoity had earlier said that it would be impossible for Georgians to return to their homes. "We don't want to live with Georgians," Kokoity had told Russian journalists. His point of view changed soon after the Russian Ministry of Foreign Affairs published a statement underlining the right of all refugees to return to their homes.
"I personally will never renounce my Georgian passport," said Koba Metreveli, a former resident of one of the South Ossetian villages. "Despite the fact all I had is back there [in South Ossetia], I would rather stay here in the refugee camp than fulfil the demands of Kokoity," he declared. According to official data from the Georgian side, more than 20,000 residents of South Ossetia of Georgian origin were forced to leave during the August conflict.
The agreement reached between the Russian and French Presidents on September 8 says that "the return of refugees based on the internationally recognized principles and practice of post-conflict settlement" will be discussed as part of future international negotiations. The question will be on the agenda of the international talks on the Georgian-Ossetian conflict to be held in Geneva on October 15.