Fear governs everything in the conflict zone
By David Matsaberidze
Wednesday, September 24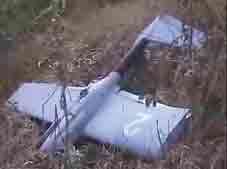 The situation in Georgia's conflict zones remains very tense. Officials are claiming that Russia will try and launch provocations before the deployment of the EU observance mission. Georgian forces have also shot down a Russian unmanned aerial vehicle (UAV) near breakaway South Ossetia.
Studies were disrupted at the village of Perevi, in Sachkhere region, on September 23, because only 20 pupils turned up for school, the presence of Russian occupiers in the village scaring the local residents and persuading them to keep their children at home. Studies have been postponed for a week. Illegal Russian checkpoints are still present in the village. In Akhalgori, another occupied region, Ossetian separatists have forced children to begin studying, even though there are very few left in the region as most fled during the Russian occupation. The separatists want to demonstrate that they are in control of the region and life continues as normal.
On September 23, Georgian forces claimed to have shot down a Russian drone. According to official information, the unmanned aerial vehicle (UAV) was flying over the territory between the villages of Khurvaleti and Tsitelubani, near breakaway South Ossetia, early on September 22 when it was shot down. The Georgian Interior Ministry has officially confirmed this report, but the Russian side is strongly rejecting Georgia's allegations.
"The drone was flying at low altitude, so it was possible to damage it with firearms. The drone was equipped with a photo camera and GPS system," Shota Utiashvili, an Interior Ministry spokesman, said at a press conference on September 23. Utiashvili claimed that the Baku-Supsa oil pipeline was its main target, adding that "The use of this drone near Tsitelubani confirms that the Russians are continuing to mount reconnaissance against Georgia." The Russian Defence Ministry however says that "The allegation about downing a Russian drone is one more provocation from the Georgian side. No Russian UAV's have conducted any flights in this region."
Against the background of these mutual allegations, the OSCE media chief has called for journalists to have free access to the conflict regions. Miklos Haraszti, the OSCE Representative on Freedom of the Media, said on September 22 that "Now the armed conflict is over it is time to grant full access to journalists to the crisis regions of South Ossetia and Abkhazia. All undue limitations on entry for the media should be lifted." He also commented on the mutual blocking of Georgian and Russian internet sites and television channels during the conflict: "The blocking has stopped now because the conflict is over, but more problematic is that television on all sides is still full of subjective or biased information," Haraszti stressed. "The Yugoslav wars have demonstrated what devastation propagandistic coverage and hateful comments can cause between nations. Investigating claims of genocide, reporting on the plight of civilian victims, documenting demolished villages and visiting refugees are best done by independent reporters, and what they need is not guided tours but free and safe access," Haraszti concluded.