We want more names, say Conservatives
By Sopo Datishvili
Friday, September 26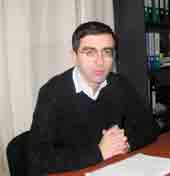 At a press conference held on September 23, the Georgian Conservative Party demanded from the Government a full list of the solders who died in the August war.
According to the Georgian Government, as it declared on September 15, the death toll was 370 – 188 civilians, 168 Defense Ministry personnel and 14 from the Interior Ministry. Giga Bukia, Conservative Party member, said that the number of soldiers killed was higher than this, and that the country should know the names of those who were doomed to die.
"We will demand that the newly-created Parliamentary Commission passes this test of its credibility in its early working days and gives us the full list of the dead soldiers," Giga Bukia said. Zviad Dzidziguri, the leader of the Conservative Party, is sure that the continued refusal of the Government to give the correct casualty figures means that the number given was shrunk.
The Ministry of Defence has responded by saying that the names of other fallen soldiers will be made public as soon as they are identified. Since there are a few dozen unidentified soldiers, the Government is waiting for the results of DNA tests. The names of 52 dead soldiers will be added to this list once these tests, which are in progress, have confirmed exactly who they are.
One of the Conservative leaders, Kakha Kukava, told The Messenger that, if a full list is not made public, the figures can become the target of manipulation. "Every family which has lost a member in the war, will think that their relative is among the unknown soldiers. This helps the Government hide the real number of dead," he says. Kukava is also sure that the Ministry of Defence is deliberately prolonging the DNA testing process to give the Government extra time to hide the truth. "They could have organized a hotline, which the people could call to see if their relatives are in the list, but didn't do so," he added.
The Conservative leader thinks the real casualty figures must be at least 5 times higher than those given by the Government, or there would be no point in hiding them from society.