Abkhazia remains a pressure cooker
By David Matsaberidze
Friday, September 26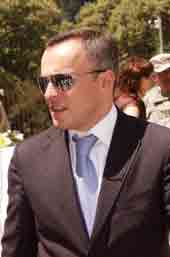 Abkhazia might have expected that after it gained "recognized independence" the situation in that territory would ease somewhat. However, this is not what appears to be happening. On the morning of September 25 an explosion occurred in Sokhumi. Furthermore Georgian politicians are now talking about amending the national defence policy in the light of events in Abkhazia and South Ossetia.
Russian news agencies report that a powerful bomb blast in the Georgian separatist region inflicted "significant damage" to buildings but caused no casualties. The Interfax news agency, quoting the head of the local Secret Service Yury Ashuba, said that "a powerful explosive device detonated near the Abkhaz Secret Service building in Sokhumi."
Ashuba blamed the Georgian Secret Services for the blast. Stanislav Lakoba, the Secretary of the Abkhaz National Security Council, sought to confirm this suspicion by saying, "Obviously this was a terrorist act aimed at thwarting the upcoming celebration of 15 years of our independence, at which many guests were expected." Georgia has denied the claim.
It is clear that the Georgian Government does not intend to give up Abkhazia without a fight. Deputy Georgian Defence Minister Batu Kutelia announced on September 24 that "After analyzing the August hostilities, Georgia plans to make amendments to its security concept and military doctrine. Military aggression by Russia was not been treated as a high probability immediately prior to the conflict, but recent developments have demonstrated how real this threat always was, and remains. Hence, the national security concept and defence planning in this respect should be changed." He controversially added that similar amendments would need to be made in the national security concepts of partner countries, the majority of NATO member states and especially the Baltic countries. Kutelia did not however specify when the changes in Georgia would take place.
At the same press conference Davit Darchiashvili MP, Chair of the Parliamentary Committee for European Integration, stressed that "Georgia was prepared for less intensive attacks but found itself drawn into a large-scale confrontation unimaginable in the 21st century". Georgian Parliament Speaker David Bakradze asserted that the continued presence of Russian troops on Georgian territory would make the situation more tense and create larger-scale conflicts with the separatists. Bakradze urged international organizations to force Russia to pull its military units out of the territories they occupied since the August intervention.
"The Russian military aggression and the continuing occupation of Georgian territory are the source of permanent instability, not only in Georgian-Russian relations but for the people who live in Abkhazia and the Tskhinvali Region. To achieve sustainable peace in Georgia, we see only one way – the complete withdrawal of the Russian Army from Georgian soil and the beginning of peaceful negotiations for conflict resolution. Otherwise, we will always face problems", Bakradze said.