Russian Foreign Minister lays into Saakashvili
By Etuna Tsotniashvili
Monday, September 29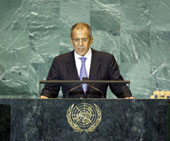 On September 27, at the 63rd UN General Assembly Session, Russian Foreign Minister Sergey Lavrov stated that Georgia lost any right over Abkhazia and South Ossetia after bombing Tskhinvali, and added that the conflict with Georgia has been a good lesson for Russia.
Lavrov said that the security of the Georgia's two breakaway regions South Ossetia and Abkhazia could only have been guaranteed by recognizing their independence. "Last month's recognition was the only possible measure Russia could have taken to ensure their security and the very survival of their peoples," Lavrov stated, as he strongly criticized the Georgian Government and accused it of continual provocation as well as starting the bloodshed on August 8.
In his speech Lavrov expressed his disapproval of the "unipolar world ideology" that he said had contributed to the August conflict. He said that in the wake of the September 2001 attacks on the United States the world had witnessed the use of political and military mechanisms which reflect a unipolar world order, eschewing genuine cooperation. "The illusion of a unipolar world confused many. For some it generated a desire to stake their all on it. In exchange for total loyalty they expected to receive a carte blanche to resolve all their problems by any means," he said. "The all-is-permissible syndrome that they developed became rampant, out of all possible control, on the night before 8 August when the aggression was unleashed on South Ossetia," he added, highlighting that the attack against civilians and peacekeepers trampled under foot all settlement agreements, thus putting an end to the territorial integrity of Georgia.
Lavrov mentioned the six point agreement signed by French President Nicolas Sarkozy and his Russian counterpart Dmitry Medvedev and called for its implementation. He said that Russia is ready to fulfil each point. The agreement includes a commitment by all parties to renounce the use of force, the immediate and definitive cessation of hostilities, free access to humanitarian aid, the withdrawal of Georgian forces to their places of permanent deployment and the convening of international discussions on lasting security arrangements for Abkhazia and South Ossetia. Lavrov also mentioned his initiative of convening a European summit on security issues, as he had discussed at his meeting with UN General Secretary Ban Ki-moon.
Earlier, on September 26, the Russian Foreign Ministry had responded to President Saakashvili's article in The Washington Post on September 23 and had released a statement saying that Saakashvili "still poses a threat to peace and stability in the region." He said that Saakashvili "was lying" when he claimed that not Georgia but Russia started the war. "Saakashvili will never have enough courage to admit that he started a criminal war, as a result of which he finally destroyed his own country with his own hands," the Foreign Minister said.
In his article Saakashvili had written that the August war had been started by the Russians when tens of thousands of Russian troops and armoured vehicles overwhelmed Georgia but that "For years, Russia sought to slander Georgia and my Government while also blocking any meaningful negotiations with the separatists. This was part of a campaign to weaken international support for Georgia and lay the groundwork for invasion. As has been reported, Russia began a sharp military buildup this spring in both conflict zones, leading to armed attacks this summer by its proxy militias. Russia then started its land invasion in the early hours of Aug. 7, after days of heavy shelling that killed civilians and Georgian peacekeepers. At the time, Russia announced that 2,100 South Ossetian civilians had been killed by Georgians, thus forcing Moscow's "humanitarian intervention." This lie, subsequently debunked by Human Rights Watch (which estimated 44 dead) and others, was an attempt to conceal Moscow's true motives."
The Georgian-Russian war started on August 8 in South Ossetia and soon spread to almost all parts of Georgia. In spite of the Sarkozy-Saakashvili-Medvedev agreement, Russian troops still remain on Georgia's territory.