Human rights conditions controversial
Monday, September 29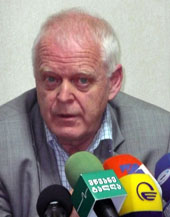 Thomas Hammarberg, Commissioner for Human Rights of the Council of Europe, has held a press conference for journalists in Tbilisi on returning from a visit to the conflict zone in the Tskhinvali region. He informed Georgian journalists that as soon as he visited the area for the first time some weeks ago, he spoke to the sides involved in the conflict and elaborated some principles which would serve to better protect human rights abused during the military clashes.
The first principle was the right of displaced persons to return to their dwelling places.
All sides confirmed that they agreed with this principle. The next was the provision of necessary guarantees and safety to those who intended to return, specifically meaning that they should be able to live in normal conditions in their own homes where possible or adequate alternative accommodation if not, in an area cleared of mines and other explosive materials.
Hammarberg said that the exchange and return of POWs (prisoners of war) and the bodies of those killed should be undertaken, as should the identification of those whose names are not yet known. There also needed to be a guarantee that international organizations and their representatives would be able to move freely in all directions, because they are here to offer assistance, and should thus have access to anywhere they wish to go.
Hammarberg concluded that so far the overall human rights picture in the conflict zone is mixed. There are some positive trends and some negative. The Russian side has reported that it has already collected and defused several thousand explosive devices although there are a lot more still there which pose a danger to human life. New houses for those who cannot return immediately to their home places are also being constructed by the Georgian side.