Another landslide claims lives in Adjara
By Sopo Datishvili
Tuesday, September 30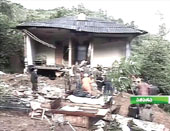 Six people have been killed by another landslide in the Adjara region. In the village of Khala in the Kobuleti district the Davitadze family became the victims of the second Adjara region landslide in a month.
Akif Davitadze, his two children and two grandchildren and their guest, David Gabaridze, couldn't escape from their house in time when the ground started the move. Rescue workers spent all night searching for them, but as it was still raining locating them became impossible. Early in the morning however they found the body of young Salome Davitadze, the rest of the bodies being recovered later in the day.
"All the local services are involved in the rescue work. In spite of the heavy rain, they are trying their best to save the lives of the people," the head of Adjara Autonomous Government, Levan Varshalomidze, stated at the disaster site on the night of September 28. Another 47 families living in the disaster zone remain at risk of being displaced by further landslides.
The head of the National Environment Agency Geographic Branch, Emil Tsintsadze, says that Adjara is among the most dangerous regions of Georgia and the risk of landslide is high. Racha-Lechkhumi and Samegrelo are also areas of high landslide probability. As head of the Short Term Forecast Agency at the Hydro-Meteorological Centre Dodo Gvazava explains, the current low temperature and rain will remain in Georgia until October 2. Then the temperature will gradually rise. She says that the frequency of rain Georgia is experiencing is actually usual for this time of year.
On September 19 four people were killed by a landslide in Khelvachauri district, also in Adjara. They also belonged to one family.