PACE will discuss Georgian-Russian war
By Temuri Kiguradze
Tuesday, September 30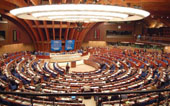 The latest Parliamentary Assembly of the Council of Europe (PACE) session opened in Strasbourg on September 29. The Georgian-Russian conflict will be one of the main topics to be discussed at this session.
Twenty-four PACE Deputies have supported the proposition of Kristina Ojuland, Vice-Speaker of the Estonian Parliament, that the Russian Federation's right to vote be rescinded. The Deputies have however decided to postpone the implementation of this decision to give Russia time to improve its policy. The deadline for this improvement is January 1st.
A PACE commission visited Tbilisi, Tskhinvali and Moscow last week, and its report will also be presented at this session. "It seems that Russia will be heavily criticized," writes influential Russian newspaper
Kommersant
. At a press conference in Tbilisi members of the commission talked about the results of their monitoring before leaving for Strasbourg. They stated that the "genocide" of the Ossetian population claimed by the Russians has not been discovered during the monitoring. However they stated that the population of the Georgian villages in South Ossetia feels itself "unprotected" and has requested that Georgian police patrol in the region. "It's impossible to discover all the facts in two days [the monitoring period], but not a single independently thinking man talks about a genocide in this region," said Matyas Eorsi, a member of PACE commission.
Russian PACE Deputies insist on calling Georgia the aggressor in the August conflict. Leonid Slutsky, a Russian PACE member, is sure that the commission has seen "with their own eyes that Georgia was the aggressor and attacked South Ossetia on August 8." However, in Tbilisi Eorsi stated that "It's clear for us that Georgia has not entered the territory of Russia, but Russia entered Georgia, and we think that Russia has to withdraw all its troops from Georgian territory."
The main discussions on the Caucasus conflict is taking place today on September 30. Georgian and Russian delegations are not participating in debates yet and are making moderate statements about each other.
"Georgian MPs are not guilty of the killing of 1,600 Ossetian citizens," Leonid Slutsky, told journalists in Strasbourg, adding that he hopes to hold a constructive dialogue with the Georgian side. Mikheil Machavariani has commented on the apparently conciliatory tone adopted by the Russian delegation, calling it a "temporary inflection." He assures the public that on September 30 it will change. "They [the Russian delegation] are acting like wolves in sheep's clothing," he said.