Germany: Russia's actions were disproportionate
By Messenger Staff
Friday, October 3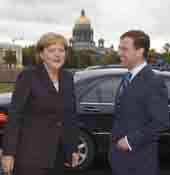 German Chancellor Angela Merkel has stated Russia's actions during the August conflict were disproportionate.
Speaking in Saint Petersburg at the international forum "Petersburg Dialogue," Merkel stated that the positions of Germany and Russia on the Caucasus conflict are "obviously different." Talking to Russian President Dmitry Medvedev, she advised Russia to conduct an intense dialogue to solve the problems of the region.
Angela Merkel also answered a question about the possibility of a return to the Cold War. The German leader stated that this is not a possibility at present. She said that she doesn't feel a "winter" in German-Russian relations. However, "We do not have similar points of view [with Russia]; we believe that Russia's reaction in this conflict was disproportionate," she said. "Now, it is essential to build up confidence [between the sides]," she added, as quoted by Georgian online daily
Civil Georgia
.
Merkel underlined the necessity of all sides following the six-point ceasefire agreement, signed on August 12 by the leaders of France and Russia. Under the terms of this plan more than 200 EU military observers have started monitoring near the conflict zones of Georgia's breakaway regions Abkhazia and South Ossetia. Merkel also talked about the possibility of enlarging the mission.
The German leader said that her position on granting a NATO Membership Action Plan for Georgia "has not changed" since the last NATO summit in Bucharest. "The time for a MAP for Georgia and Ukraine has not come yet," said Merkel, as quoted by Russian news agency Interfax. She added that the summit of NATO Foreign Ministers in December will analyze the fulfilment of the obligations taken by Georgia and Ukraine under the "Partnership for Peace" programme. A final decision on granting a MAP will be made after that.
"I think our obligation is to be in constant contact to discuss difficult questions, including those that have arisen after the Georgian aggression in August of this year," said Russia's President Medvedev after talks with Angela Merkel.