We're still fighting, says Patarkatsishvili's widow
By Sopo Datishvili
Wednesday, October 29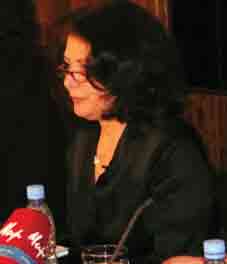 The family of Georgian tycoon Badri Patarkatsishvili is still fighting to regain control of his legacy, Ina Gudavadze, his widow, announced at a press conference at the Sheraton Metechi Palace on October 28. The family has intensified its legal efforts to regain Imedi TV and Mtatsminda Park, as they claim they are the only rightful owners of them.
At the press conference, held three days before what would have been the birthday (October 31) of Badri Patarkatsishvili, Ina Gudavadze tried one more time to draw public attention to her allegations that legal papers presented by Joseph Kay, who has claimed all of Patarkatsishvili's estate, were forged.
"Since Badri died, I have had to carry on this battle to reclaim his legacy for his rightful heirs. Most important to me is to recover Imedi TV and Mtatsminda Park. These were Badri's personal projects for Georgia and the Georgian people. As his wife I have a duty to see that these works are carried on. It is my responsibility to him, and to the Georgian people he sought to serve," Gudavadze added. Patarkatsishvili's wife underlined several times that her claim to Imedi was motivated by a sense of responsibility to society. She confirmed that she stands apart from politics but believes in the value of a free media that she says the country presently lacks.
Gudavadze said that if she manages to get back the TV channel, she will change many aspects of it. "When we recover Imedi, I will do my best to ensure that it serves as a free and balanced source of news and commentary", she said. Imedi was raided during the opposition rallies last year as it was thought to be strongly pro-opposition, and the Government had refused to take part in its talk shows.
Mtatsminda Park seemed a very personal and sensitive subject for Ina Gudavadze. She said that she and Badri were personally involved in its reconstruction. "We loved this project and put much of ourselves into it. I think I knew every bush and flower in the Park," she added. Mtatsminda Park was also raided in November 2007, during street protests which Patarkatsishvili actively supported. He had signed an agreement with Tbilisi City Hall to run the park for the next 49 years.
On September 22 the Patarkatsishvili family presented the report of famous US document expert Gus R. Lesnevich, who had been asked to examine the papers Joseph Kay presented to the Georgian court. After examining three legal papers, the power of attorney and two other documents, Lesnevich gave the opinion that the signatures they contained were freehand simulations. The signatures on the three documents had been thoroughly compared with those on other legal papers of Patarkatsishvili. At that time, Joseph Kay's advocate Keti Kvartskhava told
The Messenger
that her team was going to conduct an alternative expert analysis of the same documents. Kvartskhava says that this analysis has already been done in Israel and its results contradict those of Lesnevich, but further details are unavailable.
The press conference was attended by Patarkatsishvili's sister Nana as well as his wife and their advisers. Gudavadze declared that the family is aware of the difficulties they could face in trying to regain Imedi and Mtatsminda Park, but it has chosen the legal way and isn't afraid of difficulties.