New Prime Minister not much of change, analysts say
By Mzia Kupunia
Wednesday, October 29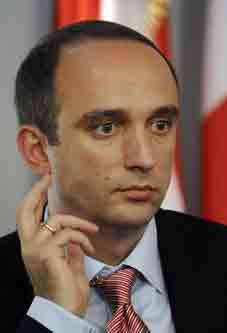 The resignation of Prime Minister of Georgia Lado Gurgenidze on Monday and the nomination of 35-year-old Grigol Mgaloblishvili, Georgia's Ambassador to Turkey, as his replacement have been a surprise for many. President of Georgia Mikheil Saakashvili declared that Gurgenidze's resignation was decided mutually. "We made the decision that Lado Gurgenidze will no longer be Prime Minister together," Saakashvili said. The President added that Gurgenidze will chair a new financial and investment commission which will be established to coordinate the attraction of investments and provide oversight of the banking sector.
"This is a special body, created in connection with the international financial crisis, and its goal will be to avert the consequences of it in this country," Saakashvili said, adding that Lado Gurgenidze's term of office as Prime Minister had coincided with "an extremely difficult period of time for Georgia." Saakashvili praised Gurgenidze for the way he coped with the situation.
About Grigol Mgaloblishvili, the Georgian President said that "he was a very good Ambassador" and that he had attracted a large amount of investment from Turkey. Mikheil Saakashvili stressed the importance of having a Prime Minister who "is able to attract investments."
Although Saakashvili cited the constitutional requirement that a newly elected Parliament should approve the new Government as a reason for Gurgenidze's resignation, some analysts and opposition figures are still speculating about the motives for the change. Analysts suggest that Gurgenidze's experience and good knowledge of the financial system had become a reason for his stepping down.
According to the political commentator Ramaz Sakvarelidze, Gurgenidze's professionalism did not allow him to agree with some unprofessional decisions made by other members of the Government. "I think Gurgenidze had one minus – he was very experienced, in particular in the banking and financial sphere, and I think this became the reason for his resignation. There have been rumours that he did not agree with some Government decisions, and according to our constitution, the Prime Minister is an assistant to the President. Therefore if he does not agree with the President's decisions he should resign, and I think that's why Gurgenidze stepped down," Sakvarelidze stated.
The Georgian non-Parliamentary opposition has also been debating the actual reasons for the latest change of Government. "Mikheil Saakashvili has realized that the country is in a deep crisis, and he understands that changes are needed. However he is acting like a child who does not want to take his medicine. He does not want to make real changes, for example to reform the court system, or have a balanced Parliament. It is a mistake to think that appointing a new Prime Minister, even if he is a very good professional, will change anything," Kakha Kukava from the Conservative Party suggested.
Some analysts see other motives behind the President's decision to nominate a person with no economic education or experience of politics. According to some commentators, as a large inflow of funds is expected in the country soon Government leaders do not want to someone with good financial knowledge controlling the distribution of this money. Ramaz Sakvarelidze agrees this suggestion might be correct, adding that "the fact that this opinion exists means that the Government has lost its credibility." Sakvarelidze suggests Saakashvili wants to appoint a person who can be easily manipulated and has no political ambitions.
"The problem is that we have the same old Soviet-style system, when people with no political ambitions were appointed as Prime Ministers. It is obvious that Saakashvili will appoint the Prime Minister favourable for him. However, ideally the leader should not be interested in appointing a person who readily obeys him, because if you want to win the battle, you should seek people who will oppose and criticize you. This is the main mistake Saakashvili is making by nominating Grigol Mgaloblishvili as Prime Minister," Sakvarelidze noted.
The Government, opposition members and analysts all describe Oxford graduate Mgaloblishvili as an "educated" and "honest" person, and a "good professional." "I have known Grigol Mgaloblishvili a long time, and I know him as an honest, competent, earnest individual. I am sure he will use his professional skills for Georgia's interests," Georgian Parliament Speaker David Bakradze told journalists.
While Government officials are excited about the new candidate, some believe he will not be able to make major changes in the country. "Although I've been told that Mgaloblishvili is a good professional and a positive person, he will not be able to change anything in the country, because in Georgia the post of Prime Minister is symbolic, without any real power. Mainly the Prime Minister's duty is to meet international guests and show them round the country. I am sorry that a young professional with a nice career is becoming a member of Saakashvili's Government," Kakha Kukava said.
The Parliamentary opposition is refraining from making early assessments of Mgaloblishvili's candidacy. Representatives of the Parliamentary minority say they will express their opinion of him after studying the programme of the new Government.
The exact date on which the new Prime Ministerial candidate and new Government will be presented to Parliament for approval is not known as yet. According to officials, it will happen "in the next few days."