De facto Republics offered "compromise variant"
By Mzia Kupunia
Friday, November 14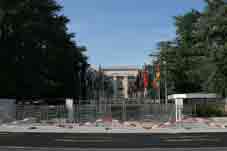 De facto South Ossetia and Abkhazia have been offered the chance to participate in the Geneva talks planned for November 18 under a "compromise variant," Konstantin Kochiev, advisor of the breakaway South Ossetian President, told Russian news agency Ria Novosti on Thursday. He said that a delegation of Geneva talks initiators, the OSCE, EU, and UN, visiting South Ossetia on November 12, told the de facto officials that Abkhazia and South Ossetia would participate in the next round of talks in the working groups format. Kochiev said the first working group discussions would be dedicated to the issues of ensuring security in the region, and the second one to the issue of IDPs.
"Each working group will be composed of eight delegations of experts," Kochiev was quoted as saying. "The initiators of the negotiations are demanding that the participants of the talks defend their position during discussions within the framework of their personal eligibility."
The first round of Geneva negotiations on October 15 was cancelled due to a disagreement between Georgia and Russia over the status of the breakaway regions' delegations. The sides blamed each other for the disruption of the session, which was due to discuss establishing stability and security in the region, returning IDPs to their homes and the complete withdrawal of Russian troops. Earlier this week Russian Foreign Minister Sergey Lavrov said that the Geneva negotiations would not be fruitful without the equal participation of Abkhazian and South Ossetian representatives. Tbilisi, however, claimed that the format of the negotiations permitted the participation of only six parties: Georgia, Russia, the USA, the EU, the OSCE and the UN, adding that representatives of the breakaway regions could take part in so-called "working meetings," held informally, to discuss the issues of security and the return of IDPs to their homes.
Some analysts suggest that although involving the de facto republics in the Geneva talks means a Georgian defeat to Russia on the diplomatic front, it might still have some positive aspects. Political commentator Gia Khukhashvili told
The Messenger
that negotiations between the sides are necessary at this stage. "I understand that there are some judicial nuances and there is pride, but we will not have any positive step forward if we don't start talking to the representatives of the breakaway regions," Khukhashvili noted. No official statements about the "compromise variant" have been made by Georgian officials so far.