Abkhazia and South Ossetia to be independent states on Russian maps
By Temuri Kiguradze
Friday, November 14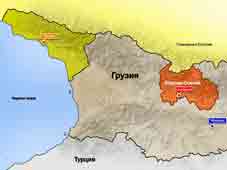 Georgian breakaway regions Abkhazia and South Ossetia are going to be printed in different colours to Georgia on new Russian political maps. The capitals of the regions, Sokhumi and Tskhinvali, will be given the names used by the separatist authorities - Sukhum and Tskhinval.
"According to the recommendations of the Russian Ministry of Foreign Affairs, the full form of the titles for these states is Republic of Abkhazia and Republic of South Ossetia. The short forms are Abkhazia and South Ossetia and the capitals are called Sukhum and Tskhinval respectively," stated the Deputy Head of the Russian Federal Agency for Geodesy and Cartography, Radmil Shayapov, speaking to the Interfax Russian news agency.
Until now Abkhazia and South Ossetia have been rendered as parts of Georgia on Russian political maps. The Russian media states that the maps now need revision as Russia has recognized the independence of the two Georgian separatist territories since August 2008. Shayapov has also stated that the Russian map agency will also publish new detailed maps of the "republics."
On November 12 the Russian Parliament finally ratified Russia's co-operation agreements with Abkhazia and South Ossetia. In these documents both parties express a "wish to strengthen friendly relations and develop political, economic, military-technical and humanitarian co-operation." The documents also confirm that Abkhazia and South Ossetia will use the Russian ruble as their official currency and allow 'dual citizenship' of Russia and so-called Abkhazia and South Ossetia. Under the terms of these agreements Russia will deploy about 8,000 troops and heavy armoured vehicles to new military bases to be built in the breakaway regions.
The recognition of the breakaway regions has been strongly condemned by Georgia, which has accused Russia of the annexation of its territory and broken off diplomatic relations between the two countries. The international community, including the USA, EU and NATO, has supported Georgia.
NATO Secretary General, Jaap de Hoop Scheffer, said on November 13 that the August war had changed the European security environment. "The unilateral recognition of Abkhazia and South Ossetia by Russia, violating basic principles of sovereignty and territorial integrity, will not lead to the viable Euro-Atlantic security structure we seek to achieve through constructive engagement with Russia," he said, whilst making his opening remarks at the NATO-Ukraine consultations in Tallinn. "A country's right to freely choose its security alignments is another important principle in this regard, and a test for the Europe that we all seek to build. It is a principle that we will not compromise," Scheffer added.
Speaking on November 13 to the French newspaper Le Figaro, Russian President Dmitry Medvedev said that the decision to recognize the independence of breakaway Abkhazia and South Ossetia was final and irreversible. "This is not an issue to be trifled with; we have recognized two new subjects of international law. In terms of international doctrine, these two subjects do exist," said Medvedev. The independence of Abkhazia and South Ossetia has been recognized only by Russia and Central American state Nicaragua.
Medvedev also stated that Russia is not going to reduce the number of it troops in the conflict regions. "I draw your attention to the fact that not a single document, including my joint plan with [French] President Nicholas Sarkozy, stipulates that this contingent is bound by any rules." He said that the number of the Russian contingent was regulated by bilateral agreements with Sokhumi and Tskhinvali. "And we ourselves will decide which contingent is needed, where it will be stationed, and what military bases will be present there," Medvedev continued. "These steps are all in the interests of defending these two new subjects of international law, protecting the people who live there, and making sure that another humanitarian disaster does not take place. The size of this contingent has to be sufficient to fulfill these missions," he concluded.