Rustaveli Theatre signs cultural exchange agreement with UK National Theatre
By Mzia Kupunia
Friday, November 21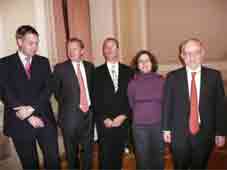 A new partnership project between the Rustaveli Theatre and the UK National Theatre was launched on Thursday. The theatres of the two countries signed an agreement for cultural exchange between Georgia and the United Kingdom.
The project, supported by BP and HSBC, envisages developing capacity in the theatre sector in Georgia through working with emerging directors, promoting new writing and engaging audiences in new work. According to the Rustaveli Theatre representatives, a series of master classes will be held in Rustaveli Theatre, and Georgian directors will also visit the National Theatre Studio in London. In addition to director and actors, the theatre's designers, makeup, lighting and other personnel will be involved in exchange programmes. Rustaveli Theatre officials say this will allow them to introduce modern technologies in the Georgian theatre space.
The head of the Rustaveli Theatre Zaal Chikobava said the agreement was important for not only Rustaveli Theatre, but for talented Georgian actors generally. "The project will not only contribute to the development of one particular theatre, but help young Georgian actors share and acquaint themselves with the current trends and processes in the theatres of Europe," Chikobava stated.
Speaking after the signing ceremony, British Council Director in the South Caucasus Paul Doubleday expressed his excitement about the project, from which "we will see close relationships, creative collaborations and a new generation of Georgian directors brokering mutually beneficial relations with their counterparts in the UK," he said.