MCC grants additional USD 100 million
By Mzia Kupunia
Friday, November 21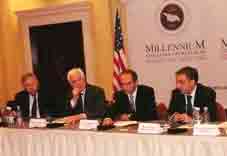 The Millennium Challenge Corporation has granted USD 100 million to Georgia. On Thursday Georgian Prime Minister Grigol Mgaloblishvili and Millennium Challenge Corporation CEO Ambassador John Danilovich signed an amendment granting an additional sum in US Government development assistance to Georgia's original USD 295 million MCC compact agreement.
According to the CEO of Millennium Challenge Georgia, George Abdushelishvili, the additional funding will be spent on Georgia's road network, infrastructure development and energy activities. The MCG statement says that among other things, the funding will facilitate the rehabilitation of three more sections of the road connecting the Samtskhe-Javakheti region to Turkey and Central Georgia. It also permits "full completion of three previously municipally-approved projects and the preparation of a comprehensive economic, geological and environmental study, a technical design and public/private financing plan for a gas storage facility and related infrastructure," the statement reads.
Georgian Finance Minister Nika Gilauri, who attended the signing ceremony, stressed the importance of the reconstruction of the Samtskhe-Javakheti road. "The new road and the customs office that will be opened after the completion of the rehabilitation works will double the transit capacity between Georgia and Turkey and make the country more attractive in terms of investments," Gilauri said, adding that hundreds of Georgian citizens will be employed in the road construction works.
The US Ambassador to Georgia, John Tefft, said that the additional funds would help eradicate poverty in the country, and reiterated the support of the US to Georgia. "I want people to know that this is delivering on the aid we have promised. This is a substantial part, of what will be altogether a third of a billion dollars in aid that President Bush has promised to deliver to Georgia," the Ambassador said. CEO of the Millennium Challenge Corporation John Danilovich also stressed the United State's strong commitment to Georgia's economic development. He said the aim of the project was to replace poverty with prosperity in Georgia.
Georgian Prime Minister Grigol Mgaloblishvili thanked the US Government for its support. "Today's signing ceremony is one more step forward that clearly indicates that the US is standing next to my country, not simply because we have common interests, but because we share common values," Mgaloblishvili said.
Millennium Challenge Georgia was established by the Georgian Government to implement the Millennium Challenge Compact. USD 255.3 worth of grant was allocated by the US Government for Infrastructure Rehabilitation and Enterprise Development in the regions of Georgia in 2006.