War Commission questions Economy Minister and Parliament Speaker
By Mzia Kupunia
Monday, November 24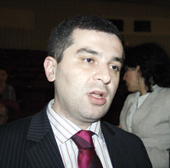 Georgian Economy Minister Eka Sharashidze and Parliament Speaker David Bakradze testified before the Temporary Parliamentary Commission studying the August events yesterday. Eka Sharashidze, first to be heard, said that the Georgian economy had shown incredible sustainability and strength during the crisis. She told the Commission that all important facilities damaged during the August conflict, including Poti Port and various railways, airports and roads, had been repaired in an extremely short period of time. "The Georgian economy managed to resist the Russian pressure," Sharashidze said.
The key question asked was about information provided by intelligence chief Gela Bezhuashvili concerning a suspicious investor who was planning to invest in Georgia's energy sector. Allegedly Russia was behind this proposed investment deal. Bezhuashvili had told the Commission in October that his department had informed the Economy and Energy Ministries about this. Georgian Prime Minister Lado Gurgenidze testified at a previous hearing that the Minister of Economy would have more detailed information on this matter. Minister Sharashidze said however that the Economy Ministry had not received any letter concerning this issue. She said no privatization in the energy field was made this year, "so no suspicious company was participating in any privatization in this sector," Sharashidze stated, adding that none of the Russian-owned companies operating in Georgia had created any problems for the country so far.
Minister Sharashidze said she was verbally notified by the Prime Minister Lado Gurgenidze about this matter and noted then that she had not read the letter. She reiterated that "this letter itself has not been received by the Economy Ministry." The Chairman of the Parliamentary Commission told journalists that this matter remains unclear and an investigation should be launched into it.
Georgian Parliament Speaker David Bakradze said that the Georgian Government had carried out numerous unsuccessful attempts to regulate relations with Russia and the representatives of Georgia's breakaway regions. Bakradze said that all attempts failed due to Russia's negative position on the peaceful resolution of conflicts. He told the Commission that when he was Foreign Minister of Georgia he contacted Russian Foreign Minister Sergey Lavrov several times in an attempt to start real negotiations to reach agreements on disputed issues, including Georgia's breakaway regions. However, the Parliament Speaker said, these attempts had brought no results.
"The Georgian Government tried to understand from Russia what it demanded of us. We wanted to hear a clearly formulated statement of their claims in Georgia," Bakradze said, adding that no such formulation has been made by the Russian side. Bakradze told the Commission that the Russian side seemed not to be willing cooperation with Georgia, as long as Georgia was insisting on pursuing the three key points of its policy: sovereignty, territorial integrity and freedom of choice for the country.
Bakradze said that relations between Russia and Georgia had begun to sharply worsen from April 2008. He said that "a cascade of negative moves by Russia made the situation in the conflict regions extremely tense. The Georgian side had been making all possible efforts to avoid the conflict through dialogue with Russia, as well as with the de facto authorities of Abkhazia and South Ossetia," Bakradze told the MPs. He said the Georgian Government had set three 'red lines,' mass raids on the Georgian civilian population, large scale aggression from Russia and a long-term military build-up of Russian troops in any of the breakaway regions, which its enemies should not cross, and that the Georgian Government had warned it would react appropriately to any violation of these red lines. The Parliament Speaker noted that Russia had violated two of the three red lines on August 7: it had carried out a large scale bombardment of Georgian civilians and a Russian military cordon was entering Georgia. "We could not have left these actions without a proper reaction, because it would have meant the start of the ethnic cleansing of the Georgian population and the violation of Georgia's sovereignty," Bakradze stated.
The Speaker answered a question about his statement of August 10, when he informed people in a televised address about a possible deployment of Russian troops in the Zugdidi region, and called on the population to show resistance. The Speaker had later been criticized for panicking the population with this statement. Bakradze said he possessed proven information about Russian troops planning to enter Zugdidi region. "I could not have had stayed silent when the peaceful population was facing a real danger of ethnic cleansing. I was trying to keep people away from danger. At the same time it was a message to Russia, telling them that if they took this step, we would resist," Bakradze said, noting that if this kind of situation repeats itself, he is ready to defend the country with weapons.
The Temporary Parliamentary Commission, which is due to present its conclusion in December, will question former Ambassador to Russia Erosi Kitsmarishvili today.