IDP assistance projects summarized
By Salome Modebadze
Thursday, December 25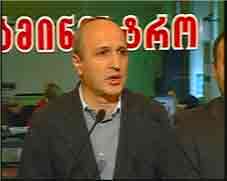 On December 24 Vano Merabishvili, the Minister of Interior Affairs, along with Davit Tkeshelashvili, State Minister for Regional Issues and Koba Subeliani, Minister for Refugees and Accommodation, held a special briefing at the Ministry of the Interior about the main activities undertaken after the August war to assist refugees.
The three Ministers provided the media with a brief schedule of costed projects. 3,963 houses were built for IDPs at a cost of GEL 27,933 each, equivalent to GEL 433 per 1 sq.m. 1,500 houses worth GEL 13,243 were repaired from the State Budget, at a cost of GEL 219 per 1 sq.m. 453 new houses were bought for refugees worth GEL 1,828 each. People were also given compensation of GEL 200 for each family member. 9,342 houses, each worth GEL 2,000, were rehabilitated in the so-called buffer zone, the territory occupied by Russia in August. 450 families will receive temporary apartments by Summer 2009. In total GEL 242,752,038 has been spent on these projects.
"I am happy to announce that 90-95% of IDPs from South Ossetia have been already accommodated. They have been provided with all modern conveniences such as electricity, gas, a water supply. 585,000 metres of roads have been also rebuilt. The number of ethnic Ossetians leaving the territory has unfortunately increased after the war. It's important to mention that those Ossetian people have Georgia citizenship, and we will do our best to provide them with our support and satisfy their needs by the end of Spring," Merabishvili stated.
The Minister of Interior Affairs also emphasized that IDPs will be given cheap credits by the end of January so that they will be able to build houses and buy plots for their own usage. He suggests that this process will be finished by the end of March.
Davit Tkeshelashvili stressed that 16,548 people in total will be provided with accommodation. He also mentioned that there are still particular problems which will be settled with the help of relevant departments and local Municipalities in the near future.
Koba Subeliani stressed the importance of the assistance projects and elaborated on the figure mentioned by the Minister of Interior Affairs. "All the refugees have been supplied with the main commodities such as sugar, flour, and etc. Each family member was given GEL 200 and they will receive the same amount for a period. Students from the territories attacked by Russia will have their school fees paid from the State Budget," Subeliani noted.
Vano Merabishvili stated that the IDP support issue will be the main subject of a Parliament Commission and emphasized that the support has been financed mostly from the State Budget, with international aid to be used to replenish the budget.