Patriarch celebrates anniversary of enthronement
By Temuri Kiguradze
Friday, December 26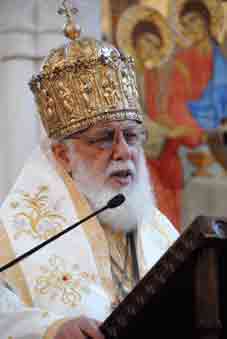 The Catholicos-Patriarch of all Georgia, Ilia II, celebrated the 31st anniversary of his enthronement on December 25.
According to the Georgian Patriarchate Ilia II conducted a celebratory service in Sameba Cathedral on Thursday, after which he received congratulations from a number of international guests. Among those attending was Georgian President Mikheil Saakashvili, who said that the Patriarch's enthronement was "a big holiday for the whole of Georgia." The President spoke about the role of the Georgian Orthodox Church in the history of the country. "We have to understand that our salvation is the maintenance of our traditions and Faith and the unity of all nationalities living in Georgia," Saakashvili stated.
Saakashvili's Russian counterpart Dmitry Medvedev also noted the Patriarch's anniversary. A representative of the Russian Orthodox Church who attended the service read out a letter from the Russian President, who addressed Ilia II as "the real leader of the Georgian people." Medvedev noted that the Georgian Church is one of the most ancient churches in the world and expressed the wish that Russian-Georgian relations will be restored with the support of the Georgian Patriarch. The representative of Russian Church delivered gifts from Dmitry Medvedev and Russian Foreign Minister Sergey Lavrov.
Ilia II became the Patriarch of All Georgia on December 25 1977. He has led the Georgian Church through several changes of regime and wars. During the August 2008 Russian-Georgian war, Ilia II appealed to the Russian political leadership and Church, expressing concern that "Orthodox Russians were bombing Orthodox Georgians," and dismissing Russian accusations of Georgia's "genocide" in South Ossetia as "pure lies." He also made a pastoral visit, bringing food and aid, to the Russian-occupied central Georgian city of Gori and the surrounding villages, which were on the verge of humanitarian catastrophe. He also helped retrieve the bodies of dead Georgian soldiers and civilians.
In December 2008 Ilia II visited Moscow to pay a final farewell to Russia's late Patriarch Alexey II. On December 9 2008, he met Russia's President Dmitry Medvedev, this being the first high-level official contact between the two countries since the August war. Later, Ilia II announced that he had made some "positive agreements" with Medvedev which needed "careful and diplomatic" follow-up by the politicians.