TBC presents annual report
By Temuri Kiguradze
Friday, December 26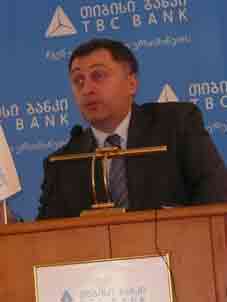 On December 25 TBC Bank held a press conference to launch the annual report outlining the bank's activities this calendar year, conducted by TBC President Vakhtang Butskhrikidze.
The main subjects raised at the press conference were how the August events had impacted on the bank sector and the bank's anti crisis plan. TBC pointed out that according to today's data all main financial indexes are healthier than they were in the first quarter of this year. Therefore, despite the country's and the world's difficult financial situation TBC bank has managed to restore the level of financial performance it had prior to the August war.
After the August events TBC's portfolio of deposits was reduced by 11%, as against a 13% deposit reduction in the banking sector as a whole. In September depositors returned and the TBC portfolio of deposits by physical persons is now almost as large as on July 31. TBC bank ceased crediting operations in August and in September-October credit issuance was limited. In November the credit portfolio was increased by 126 million GEL.
TBC's financial assets increased by 215 million GEL or 15 %, the portfolio of deposits increased by 34 million GEL while the credit portfolio increased by 319 million GEL or 30%. TBC bank raised over 200 million USD from leading financial institutions such as Merrill Lynch (100 million USD), Citibank (44 million USD) and ERBD (7.5 million USD). In first quarter of 2009 TBC will cover nearly 100 million USD of its liabilities to international financial institutions. At the same time it will attract about 220 million USD from similar bodies which means that meeting international liabilities will not impact on the bank's liquidity.
Vakhtang Butskhrikidze stated that TBC will simplify the issuance of credit after February. TBC will be oriented on the same consumer sectors and also open outlets throughout Georgia, employing new staff.