Georgian Government unveils plan to resist world financial crisis
By Mzia Kupunia
Monday, December 29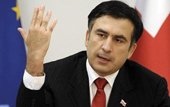 The Georgian Government discussed on Sunday ways to prevent the world financial crisis negatively influencing the Georgian economy.
President Saakashvili said Georgia has no crisis yet. He admitted that "there is a slowdown in the economy," but said it is possible to overcome the difficulties from the second half of 2009. "Georgia's victory comes through saving and strengthening the Georgian economy," the President told Ministers at a one hour session, adding that Georgia will have economic growth of 2.5 % next year, which, according to the President will be enough to solve the economic problems of the country.
Georgian Finance Minister Nika Gilauri presented the national economic strategy. Gilauri said that a GEL 2.2 billion package had been worked out to stimulate the Georgian economy. The Finance Minister noted that more than GEL 1 billion will be spent on social welfare. Gilauri also mentioned that the strategy will be implemented in 3 ways: investing in local infrastructure (which will maintain and create jobs), increasing social aid and increasing the attractiveness of the country in order to attract more international investments.
President Saakashvili noted that he was satisfied with the work of the new Cabinet, saying that it had brought "new ideas and new energy." Saakashvili said the Georgian Government fully realizes that it is now facing a big test due to the world economic crisis. The President called on the Government to mobilize and coordinate its efforts and noted that the country will be able to overcome economic problems if political stability is maintained.
Saakashvili hailed the economic strategy presented at the session, saying that "with this strategy Georgia can turn an economic crisis into economic growth."