Policeman wounded in the conflict zone
By Temuri Kiguradze
Monday, December 29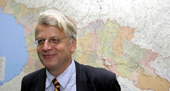 One Georgian policeman was wounded in village of Koshki near the administrative border with breakaway South Ossetia region of Georgia on December 28.
The Georgian Interior Ministry states that the policeman was injured during fire on the Georgian police post originating from the territory occupied by Russian troops and so called South Ossetian militia. The wounded man was transported to Gori hospital where he was operated on. The Interior Ministry states that no responding fire was opened.
The Ossetian separatist authorities deny the shooting and state that the policeman was wounded in a "drunken fight" between Georgian policemen. South Ossetian de facto Deputy Defence Minister Ibragim Gasseev also stated that the Georgian side has deployed a large number of special forces in the same region. Tbilisi denies this.
Georgian media reports that tensions have been raised by a wave of incidents in the both Georgian conflict regions over the weekend. Georgian TV channel
Rustavi 2
has reported that so called Abkhaz militia robbed two busses with residents of the Gali region, located near the administrative border, on December 28. "The soldiers took food, money and personal jewellery from the locals," reports the channel. On the same day Georgian news agency
Interpressnews
reported that a new Russian military base was to be established in Gali. Quoting a source from the region, the agency reports that the base will house several hundred soldiers. "The number of Russian troops in the villages on the border rises day by day, and the so called Abkhazian militia stand there with the Russians," states the source.
On December 26 the EU Monitoring Mission (EUMM) announced their concern about the equipping of Georgian troops located near the administrative borders with
Cobra
armoured vehicles. "The EUMM has consistently advised against the deployment of these military-type vehicles because it firmly believes that they will not contribute to enhancing the security situation on the ground," Head of Mission Hansjorg Haber said. The Georgian Interior Ministry introduced its Turkish-made light armoured vehicles, Cobra, to patrol the areas adjacent to the breakaway regions on December 24. The Georgian side informed international observers, including OSCE monitors on the ground, of its intention to deploy Cobra vehicles in November.
The Head of the EUMM also said that the Georgian side's wish to provide more security for their policemen deployed in the areas adjacent to Abkhazia and South Ossetia was understandable, as ten Georgian police officers had been killed in those areas since the end of the August war. "However, not in one of the instances in which Georgian police officers have been killed since EUMM began its monitoring activities could this have been prevented by the presence of an armoured vehicle," Haber said. He also said that there was "a sense of insecurity prevailing in the immediate vicinity of the administrative boundary lines. But on the whole, EUMM would still assess the security situation as better than expected so far," Haber continued. "The restraint shown by Georgian law enforcement officers has played an important role in maintaining this level of security."