American warship arrives in Georgia
By Temuri Kiguradze
Tuesday, December 30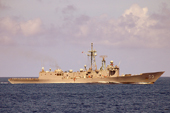 A US military vessel arrived in the Georgian port of Poti on Monday as part of a two-day visit, a spokesman for the U.S. Embassy in Georgia said on December 29.
The USS Taylor (FFG-50) guided missile frigate was making a two-day regular port call, the spokesman said, adding that no drills were planned during the stopover. The 20-member crew was met by representatives of the local administration and the Georgian Coast Guard, and a number of cultural events have been scheduled, he said.
American sailors are going to see in the New Year in Georgia, and after the celebration another US warship will enter Georgian waters. Georgian media reports that the ship will control Georgia's sea and air borders within an 800 kilometre radius. The Taylor also entered the Black Sea in August 2008, when it participated in NATO military exercises with Romanian and Bulgarian forces. Warships of the same type were located in the Persian Gulf during the Iran-Iraq conflict in the 80's.
The USS Taylor is the sixth American warship to visit Georgia after the August conflict. Previous warships carried consignments of humanitarian assistance to refugees from the conflict. American officials have stated that these vessels are conducting "friendly routine" visits to Georgia.
Russian officials have several times protested against the visit of US military ships to Georgia. Moscow states that warships of this type "are not intended for humanitarian missions." It has also accused American vessels of supplying Tbilisi with weapons and military equipment instead of the reported humanitarian aid.
Tbilisi and Washington strongly deny these allegations. Russia has frequently expressed its irritation at the attempts of Georgia to integrate with Euro-Atlantic organizations and cooperate with NATO and US military forces. "Russia regards the aspiration of Georgia and Ukraine to join NATO as the threat to its national security," announced the Russian Foreign Ministry on December 29.
The visit of the American vessel has coincided with a new wave of tensions in Georgia. The local media has reported that a Russian military ship and boat were observed in Georgian waters along the coast near Ganmukhuri village, in the Gali district of Georgian breakaway region Abkhazia. Local residents also saw two military helicopters over the village, a MI-28 and MI-24 apparently patrolling it. The separatist authorities of Georgia's other breakaway region South Ossetia have also stated that Tbilisi has "moved 28 tanks" to the administrative border near Gori. The Georgian Interior Ministry has strongly denied this, with Shota Utiashvili, spokesperson for the Ministry, telling
The Messenger
"This is absurd."