Government establishes new anti-corruption council
By Mzia Kupunia
Friday, January 9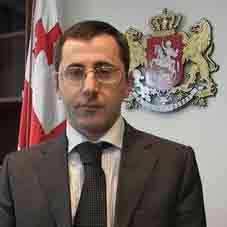 A new anti-corruption inter-agency council was created on Wednesday which will work out a new action plan and upgrade the old national anti-corruption strategy. Justice Minister Zurab Adeishvili chairs the council, comprising several Government officials, including former Deputy Economy Minister and Prime Minister's aide Vakhtang Lezhava, head of the President's Administration Kakha Bendukidze, head of the State Audit Agency Levan Bezhashvili, Deputy Justice Minister Tina Burjaliani and several lawmakers.
The members of the council say they have already started working on a new strategy. Vakhtang Lezhava told The Messenger that they "already have some ideas," however he noted that the new strategy will not be very much different to the old national anti-corruption strategy. "Radical changes are not expected in the strategy as the old one has proved itself successful. The level of corruption in Georgia during the past 4 years has significantly decreased according to the data provided by several reliable organizations. Georgia is now the leader in this regard, in this region and also beyond," Lezhava noted.
Lezhava said that the exact date when the strategy will be ready to be released is not known yet. "We are planning some meetings with representatives of NGOs and the Georgian Government in January to find out what they think about our ideas. It is hard to say at this point how long it will take to develop this strategy; the final decision should be made by consensus between the sides," he stated.
The council does not contain any representatives of the opposition, however Lezhava says this should not deter any interested party from participating in its work. "Formally the opposition is not included in the anti-corruption council but the council is open to any interested party, including representatives of civil society and the opposition. Not having the status of a formal member of the council will not preclude a person from participating in its work," Lezhava said.
According to Lezhava the council will focus on two particularly troublesome areas: entrepreneurs and the public sector. Lezhava said that these are the spheres where "the risk of corruption is quite high."
The opposition has criticized the idea of setting up "another" new anti-corruption council. Tina Khidasheli from the Republican Party said that this is the third time since the Rose Revolution that this kind of council had been created. "The Government is creating a third council to tackle the same problem. This is shameful," she noted.
Khidasheli stated that the anti-crisis council is not a "real mechanism to fight corruption." She said she sees the new council as a PR stunt by the Georgian authorities aimed at gaining additional merit points.