Abkhazia gambling on wider recognition
By Temuri Kiguradze
Friday, January 9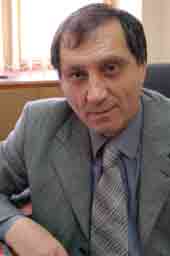 Georgian breakaway region Abkhazia expects more countries to recognize its "independence" in 2009.
"The process of recognizing new countries is a long term one and we are not going to speed it up. It's more important for Abkhazia to settle its relations with countries which already have recognized or soon will recognize it. These cover both political and economical spheres and the most important issue – the security of Abkhazia," stated the puppet regime Foreign Minister Sergey Shamba as quoted by Russian news agency
Interfax
on January 8.
The Russian Federation recognized Abkhazia and Georgia's other breakaway region South Ossetia on August 26, 2008 after the August invasion. This move was explained by Russia as "necessary for the protection of the security of these regions." This action was strongly condemned by the international community, including leading countries of the EU, the USA and OSCE, all of which continue to regard the territories as part of Georgia. The only country which has followed Russia's lead is Nicaragua. Georgia cut diplomatic relations with this Central American state in late 2008 in consequence.
Shamba assumes that the next country to recognize Abkhazia will be Russia's ally Belarus. He states that a request concerning this issue has already been sent. However Belarus President Lukashenko has given a statement saying that the decision will be taken by Minsk "according to its own interests." He proposes to discuss this issue at the Belarus Parliament in 2009, declining to recognize the Georgian regions on his own authority. Earlier in 2008 the Russian Foreign Ministry said Somali was also ready to recognize Abkhazia and South Ossetia, but on October 10 the Foreign Ministry of Somali send a letter to Tbilisi declining such a possibility.
NATO Secretary General Jaap de Hoop Scheffer said in 2008 that the August Russian-Georgian war had changed the European security environment. "The unilateral recognition of Abkhazia and South Ossetia by Russia, violating basic principles of sovereignty and territorial integrity, will not lead to the viable Euro-Atlantic security structure we seek to achieve through constructive engagement with Russia," he said in his opening remarks at the NATO-Ukraine consultations in Tallinn. "A country's right to freely choose its security alignments is another important principle in this regard, and a test for the Europe that we all seek to build. It is a principle that we will not compromise," Scheffer added.
"Georgian people want peace, but not at the expense of giving up of our territories – this is a very important, fundamental concept, a foundation of our national policy," stated Georgian President Mikheil Saakashvili on January 7, speaking to local journalists.