Opposition office confiscated by court
By Sopo Datishvili
Wednesday, January 14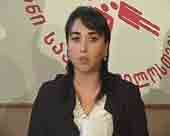 On January 12 the Administrative Board of Tbilisi City Court decided to confiscate the office of the Movement for United Georgia. The decision was made on behalf of the country's Government. The office is at 27, Atoneli Street , Tbilisi.
The Court has decided, after examining the issue, that Irakli Okruashvili, the former Minister of Defence and later opposition leader who founded the party, declared that he had bought the building in which the office is located for less money than it actually cost. Okruashvili paid USD 250,000 for the property although its nominal price was USD 1.8 million. The ex-Minister was thus accused of conducting negotiations to disguise the real price and launder money.
The Secretary of the Movement for United Georgia, lawyer Eka Beselia, immediately claimed that the decision had a certain political motivation. She explained that the property was actually owned by eleven people, only one of whom was Okruashvili. The other owners she named as Amiran Giguashvili, Levan Terashvili, Davit Kekelishvili, Gela Naskidashvili, Marlen Nadiradze, Misha Kareli, Ioseb Giguashvili, Nika Ramishvili, Vasil Makharashvili and Teimuraz Gogitidze.
"The decision to seize the property is too far from justice. Irakli Okruashvili wasn't the only owner of the building, there were 10 other people. The judge executed the directive of the Government. We presented many strong arguments but in vain, they paid no attention to them", said Beselia.
The lawyer also claimed that the procedure the Court followed was a violation of the law, as all the owners of the building should by law have been warned of the impending case, but only two were present in court, Levan Terashvili and Marlen Nadiradze. Eka Beselia says she also has further grounds on which to complain about the decision, as it was based on the findings of an investigation which has not concluded. "The investigation was started by the Financial Police last year but it hasn't been closed yet," she insisted.
Irakli Okruashvili is currently in France, where he has claimed political asylum. His office was raided and closed, and he was accused of laundering money, in September 2007. After paying GEL 10 million bail, he was released. Okruashvili was detained for a second time in Germany but soon freed.