Bank of Georgia and Aqua Viva sponsor students' Business Olympiad
By Ernest Petrosyan
Thursday, January 15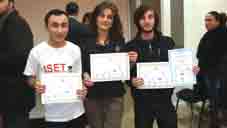 On January 13 The International School of Economics held an award ceremony for Georgian students who won various competitions in the Business Olympiad. The Olympiad was established to popularize business education and encourage talented Georgian students. "It is a very great pleasure for us to welcome so many young students to the International School of Economics", said President of ISET Eric Livny
The fourth Business Olympiad began in October and lasted 3 months. 307 students in 90 teams from 30 Georgian Universities played business games in which the teams from the Georgian American University (GAU) and International School of Economics (ISET) took the leading positions. One team was participating via the internet from Switzerland, thus it can be said that this Olympiad has been de facto international.
"Students participating in this Olympiad gave up their classes and exams and played business games for three months, however their knowledge of business comes from an appropriate knowledge of economics, and we are happy that the game is over and students will return to studying," stated Eric Livny. He added that students were welcome to apply to study at ISET, as it is not profit-making institution and scholarships for students are available.
The Olympiad executive managed to attract 11 sponsors despite the difficult financial times. The main sponsors were Bank of Georgia and Aqua Viva of Georgian Glass and Mineral Water Company. Bank of Georgia awarded the Olympiad winners 2,000 GEL and Aqua Viva gave the winners a GEL 1,000 prize to be spent in Elite Electronics shops.
The united team from Georgian American University and Ilia Chavchavadze State University took first place in the Olympiad, the International School of Economics team was second and third place was taken by another team from Georgian American University.