More spending, roads and jobs to come
By Etuna Tsotniashvili
Thursday, January 15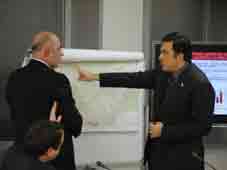 The Georgian President met with Prime Minister Gega Mgaloblishvili and Head of the Highways Department Ramaz Nikoleishvili on January 13 and was briefed on current plans for the construction and rehabilitation of roads in Georgia.
At the meeting the PM said that the Government plans to spend GEL 521 million on highway construction this year, double the amount spent in 2008, and such large scale road building will create more jobs in the country.
"One of the most significant elements of the state's Anti-Crisis Programme is the investment of state funds in infrastructure. When international donors decided to allocate assistance to Georgia they demanded we invest their money in road rehabilitation. In 2009 we plan to spend 521 million on the rehabilitation of roads, meaning we will also have more jobs," Mgaloblishvili said, adding that the tender for road construction will be announced January 15. The President asked the new Head of the Highways Department about the Tbilisi-Batumi highway, construction of which was suspended for a year. Nikoleishvili said that a tender for the rest of the work would be announced on January 15 on Georgian TV channels and that 80% of the project has been completed.
Nikoleishvili highlighted three main highway infrastructure projects, the Tbilisi-Batumi highway, the road via Gombori gorge in Kakheti, where a 68 kilometre highway will be constructed from Vaziani to Telavi reducing travelling time by almost an hour, and the Samtskhe-Javakheti road construction on which GEL 50 million will be spent. Saakashvili said that the construction of this road is of great importance because it is planned to build a winter resort similar to Gudauri, and with this new road it would take only 40 minutes to get there from the Goderdzi Pass. Nikoleishvili also said that construction of the Igoeti-Gori highway will finish soon. He told the President that on January 23 a further tender will be announced for constructing the 15 kilometre Gori-Ruisi road, which involves building two bridges and two tunnels. Nikoleishvili said that GEL 45 million will be spent on the construction of the tunnels alone.
The Prime Minister stated that an additional 10 million GEL would also be spent on the Rikoti tunnel which links East and West Georgia and by August its illumination and ventilation will be finished. He also highlighted the programme of road construction in villages on which GEL 120 million will be spent. The PM said 25-30 000 people will be employed on these works and 160 village roads will be repaired. "The priority of these projects will become local peoples' employment, creating joint enterprises and using local resources," Mgaloblishvili said.
The President stated that the next few months would be hard for Georgia as a result of the economic crisis. "Although the Russian and other economies are collapsing, the economy here is growing by 1 or 2 %. This is very important for us. It means we will have the ability to resolve strategic problems successfully," Saakashvili said.