Youngsters hone their business skills to compete in Europe
Tuesday, January 20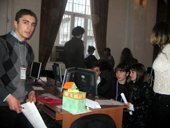 JA-YE Europe and the British Council have launched the
Skills@Work Challenge
, an enterprise competition for young people aged 15-18 from vocational schools in 9 countries in the South East Europe Region (Armenia, Azerbaijan, Bulgaria, Georgia, Israel, Macedonia, Romania, Serbia and Turkey) and the UK.
Before going into detail we should acknowledge the international importance of this event as the
Skills@Work Challenge
is a series of national competitions, leading to an international competition, aiming to encourage young people to use their skills in enterprising and innovative ways, ultimately enhancing their employability and entrepreneurial flair. The business community is asked to give the students a challenge which they have to solve within just a few hours and then make a presentation about in front of a jury.
The national competition in Georgia was implemented in partnership with Junior Achievement Georgia and Ilia Chavchavadze State University on 18 January 2009. 100 students from Tbilisi Professional Study Centres "Icarus", "IT Vet", the Toidze. Professional Art Study Centre and 2 multi-professional Study Centres were grouped - 5 people in each.
You could never say that this particular winter Sunday was quiet in the University building, as all the students were so motivated and challenged by the task and the perspective of going to the international final in Sofia on March 11-13, where 45 young entrepreneurs from 9 South East European countries and 15 entrepreneurs from the UK will compete in teams of mixed nationalities
The business partner of the project, Gudauri Hotel & Ski Resort, was represented by its General Manager Mr. Vano Vashakmadze, who set the task to the groups – giving them the opportunity of operating one of the "Mountain Huts" independently, making plans and implementing the hut operation successfully. Students had to find the services and costs as well as resources required for successful business operations. It was very important to think of the special offers they would provide for guests which would surely compete with those of other cafes and hotels.
All the thoughts and suggestions where presented in a specially designed business plan and demonstrated via a powerpoint presentation. The competitors were so keen on their tasks that even begging them to take a short break had no effect as they didn't want to give up, every minute having a value and price for them. However a live band of youngsters with the quite exotic name of "Single Balls" succeeded in relaxed them after their hours and hours of hard work as the event took 12 hours in total.
The specially invited judges evaluated all 20 presentations and at about 9 o'clock in the evening the lucky winner was announced. "Ares" took first place, "Cactus" and "Risotto" were runners-up. The British Council media partner for this event was the 1st Channel and a special youth programme will be devoted to this particular competition.
Now the winners are looking forward to spending an unforgettable weekend in Gudauri in the very same Mount Hut they were trying to make successful and the 5 best English speakers will practice their English in the English Language Zone of the British Council. The Department of Tourism, represented by Beka Jakeli, expressed a willingness to cooperate with the most innovative youngsters. The representative of the Employers Association Mr. Kote Nanobashvili was so impressed by the devotion and commitment of the students that he suggested arranging additional training for first 3 groups, 15 students in all, to help them improve their business skills